FEATURED AIRSTRIP: ALLENHOLM AIRPORT, VT
RAF intervention prevented conversion of Allenholm to cropland due to depressed agriculture prices and adverse weather. RAF saved this field! An RAF grant was issued for airfield maintenance and a windsock. RAF's Vermont Liaison provided onsite technical guidance and labor to upgrade and comply with new, more stringent VT and EPA water quality regulations for storm water runoff and seasonal stabilization.
Allenholm Airport's location is at an active apple orchard on the southernmost island of a chain in the middle of revolutionary war historic 130 mile Lake Champlain. There are two extensive mountain ranges, farmlands, waterfowl refuge area in the vicinity. This is a food production area. There is no camping; an Airbnb is on-field: "The Orchards Suite."
Bicycles are available; hiking, fishing, scenic rail causeway. Farm stand and seasonal restaurant ½ mile; State Park boat rentals, swimming 1mi. Quaint Vermont village, restaurant, convenience store ½ mi.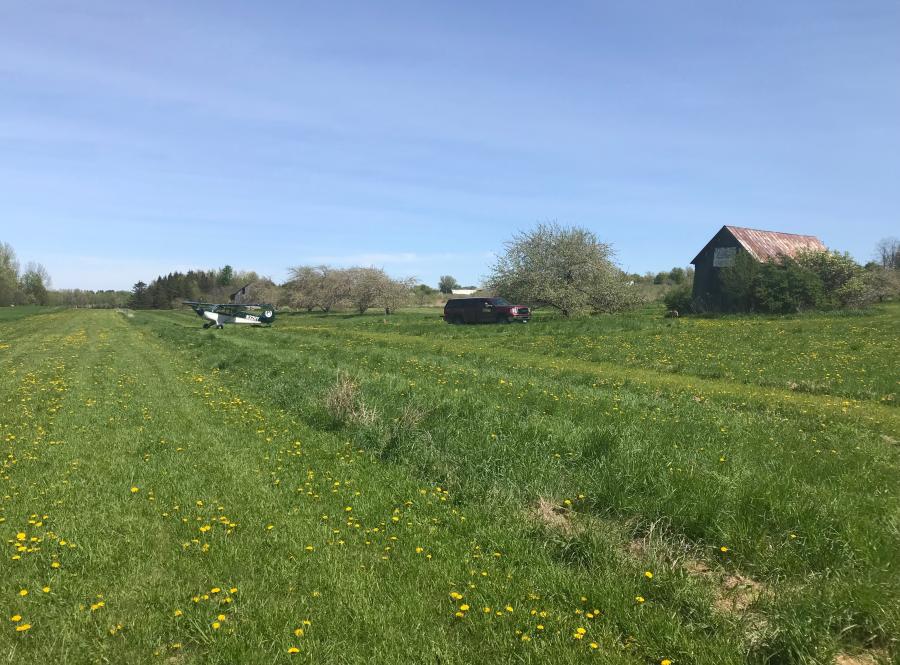 Airfield Details
Narrow N-S 2000' x 40' runway with 2-3% slope to center. Can be soft in spring and post rains. Trees 30-80' all sides, Shifty winds – South winds very sporty. Windsock midfield. Parking midfield on East side of rwy. Active farm: avoid machinery and laborers.
Owner: Ray W. Allen
Phone: 802-372-5566 (NOTE; Shared phone with farm store)
Runway #1: FAA Identifier: VT26
Lat/Long: 44-38-04.1630N / 073-18-24.4710W
44-38.069383N / 073-18.407850W
44.6344897 / -73.3067975
(estimated)
Elevation: 140 ft. / 43 m (estimated)
Variation: 16W (1985)
From city: 1 mile S of SOUTH HERO, VT
Time zone: UTC -4 (UTC -5 during Standard Time)
Zip code:  05486
Submitted on August 2, 2018