FEATURED AIRSTRIP: ALTON BAY, NEW HAMPSHIRE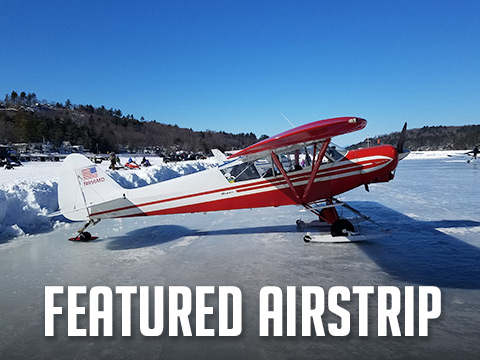 Each month we highlight an airstrip with hopes that you will get out and enjoy these special places. The March Featured Airstrip is Alton Bay, NH, where ice landings are a tradition.
"Come land on the only FAA-sanctioned Ice Runway in the Lower Forty-eight and get your Ice Wings and Ice Chip," RAF New Hampshire Liaison John Meade says. Pilots eager to practice this New England winter tradition come from as far as New Jersey and the New England states to land on ice, socialize, or walk the short distance to town for shopping and dining.
Alton Bay New Hampshire, B18 is a seaplane base during summer. It's located on the southern edge of Lake Winnipesaukee, New Hampshire's largest Lake. But the boats, paddle boards and kayaks get stored for the New England winter, and pilots eagerly await the freeze. Once ice reaches a thickness of 12 inches, normally late January or early February, New Hampshire's DOT Aeronautical Division gives the go-ahead to prepare it for ice landings.
The RAF has been a key supporter these past few years keeping the ice-landing tradition alive with grants that boost donations from New Hampshire Pilots Association, local pilots and a Maine FBO. New Hampshire DOT pays Paul LaRoche a small stipend toward his time and truck to plow, and volunteers get involved to keep the ice field open, typically through March.
"Paul hosts a pizza party at the end of the season for his volunteers as a way of saying thank you," Meade added.
See Alton Bay in the Airfield Guide as a seasonal use runway.