FEATURED AIRSTRIP: BLACKWATER, FLORIDA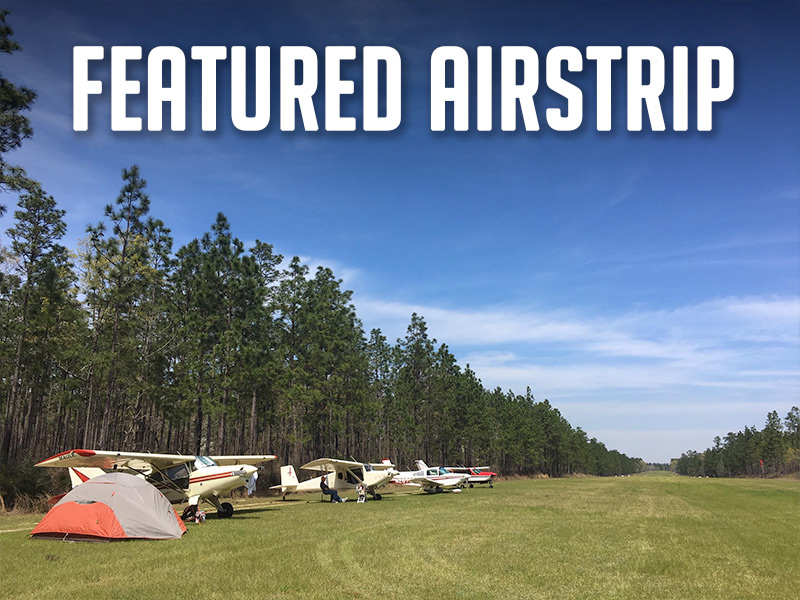 Each month we highlight an airstrip with hopes that you will get out and enjoy these special places.
When you're ready to "get away from it all," the RAF suggests Blackwater airfield (8FD3) near Munson, Florida 33 nm northeast of Pensacola.

Florida State Forestry owns the airfield, and the RAF partners with the agency in helping to maintain the airstrip through work parties and RAF grants that help fund airstrip improvements. There is potable water at the airfield. A variety of campground amenities and recreational opportunities are readily accessible nearby at Krul Recreation Area's campgrounds with improved camping sites and restrooms with showers.

There is a nice swimming lake close by, and trails through the dense woods and suspension bridges over ravines provide that feeling of truly getting away from it all, in spite of Blackwater lying within a region of dense population and busy airspace.

The Blackwater River winds through the area. Named by the Choctaw Indians, the tannin-stained water contrasts sharply with the white sandy riverbed. Floaters and paddlers enjoy its leisurely flow beneath the dense forest canopy.

The RAF offers a Blackwater keychain token for this special destination. See The RAF Outfitter for details. Additional place-tokens are available for $7 each. Collect your favorites!
Also available at the RAF Outfitter is an airstrip hat that features Blackwater. Buy it today to show your support!

See the Airfield Guide for details on Blackwater, and the required Safety Briefing, including how to obtain permission to land.
Submitted on January 25, 2022.