FEATURED AIRSTRIP IS FLORIDA'S BLACKWATER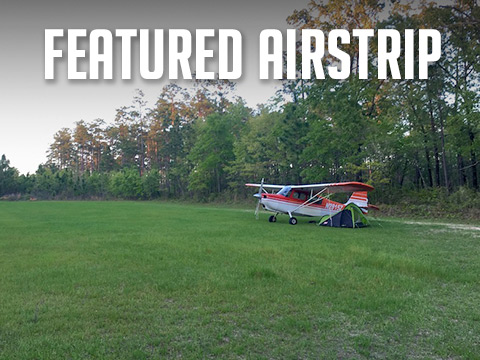 Each month we will be highlighting an airstrip that the RAF has had an impact on. We hope that you will get out and enjoy these airstrips. This month's Featured Airstrip is Blackwater Airstrip in Florida.
Blackwater Airfield 8FD3 is a Florida Forest Service(FFS) airfield to which the FFS is willing to permit public access on a 'request' basis, should its condition be judged safe and not otherwise in use. The Blackwater staff and the RAF have developed a cooperative relationship to make this access possible and to further improve the airstrip. The RAF is partnering with Blackwater River State Forest, both in helping to maintain the airstrip through occasional work parties and by helping to fund airstrip improvements as they are approved by the FFS.
A variety of campground amenities and recreational opportunities are readily accessible nearby. There are plumbed restrooms with showers in Krul Recreation Area's Campgrounds #1 and #2, which are adjacent to the field. There are both individual and group camping sites adjacent to the airstrip, which makes it possible for those arriving by aircraft to join those arriving by vehicle. The Krul Recreation Area is a camping and 'Day Use' area next to the lake. It is an attractive and popular swimming area. The Sweetwater Trail starts at the Krul parking lot and runs 1.3 miles to Bear Lake.
For more information on Blackwater, visit the Airfield Guide.