FEATURED AIRSTRIP: CREIGHTON ISLAND, GEORGIA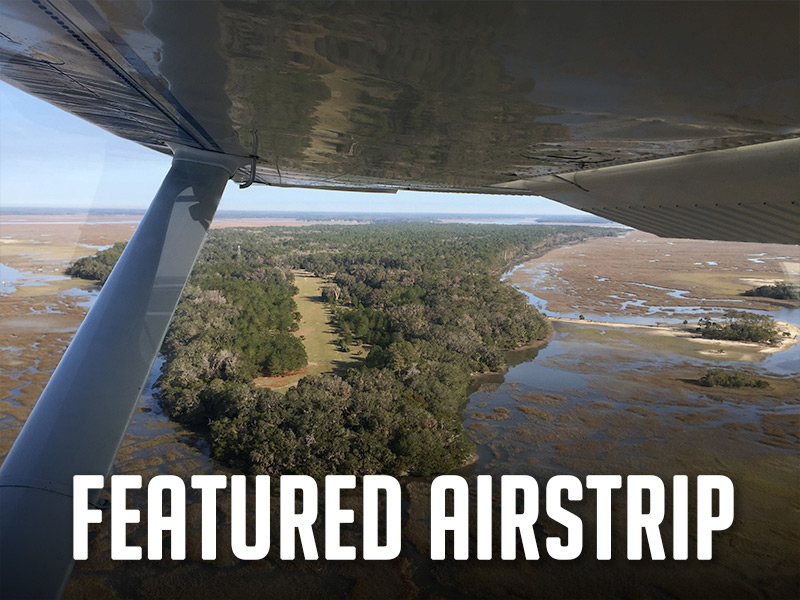 Each month we highlight an airstrip with hopes that you will get out and enjoy these special places. The November Featured Airstrip is Creighton Island, Georgia.
It would be hard to find an airfield with more diverse recreational offerings than Creighton Island. Located on Georgia's coast roughly halfway between Savannah and Jacksonville, FL, it's one of the more active airfields the RAF has helped preserve.
There are three bunkhouses, each with six beds, available first come-first served. There are plenty of tent spots, a pavilion ideal for preparing meals, propane grills, hot showers, potable water, and a fire ring, but no electricity. 
RAF Georgia Ambassador Eric Davis obtained permission from owner Frank Williams and organized many work parties. RAF volunteers from Georgia, Florida, South Carolina, and beyond helped increase safety and improved the camping experience at Creighton. "I can attest to the diversity of weather relative to the nearest reporting stations," Davis said. He designed and installed a solar-powered weather station, accessible here. For more useful information, Davis installed webcams that display real-time weather conditions. Eric and his father have installed tankless water heaters in each shower. He reports that their recent repair restored water service to the middle cabin, as well. They mowed and smoothed the runway.
Visitors experience spectacular sunsets. The more active may explore oyster beds and spot exotic shorebirds along its shores, and hike the mostly undeveloped palm and pine forested interior where cattle and burros graze. Native Americans inhabited the island before and during the Colonial period. The east side of the island was cleared for a cotton plantation by enslaved people who lived in a village at the north end of the island. "It's not hard to find remnants of structures that have long since disappeared, as well as the occasional piece of pottery," Davis said.
Now the airfield hosts guests flying in for activities ranging from intracoastal waterway fishing excursions, to target practice at the island's two-mile rifle range. For scheduled activities, see the RAF Event Calendar.
Improvements continue, and RAF volunteers refurbished a gas-powered sawmill. Once it's enclosed in a pole barn, the plan is to mill enough local lumber to build a pilot shelter.
To fly in other than for-scheduled events, pilots must obtain permission from owner Frank Williams at 912-269-5194 within 24 hours prior to arrival to obtain a runway report. For more information and the required Safety Briefing, see the Airfield Guide.
Submitted October 23, 2022