FEATURED AIRSTRIP: CREIGHTON ISLAND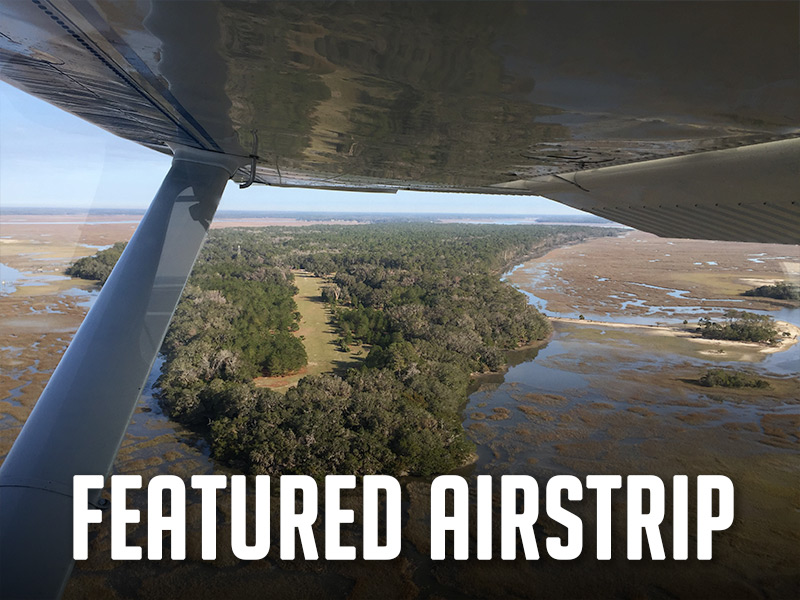 Each month we highlight an airstrip where the RAF has had involvement. We hope that you will get out and enjoy these airstrips. This month's Featured Airstrip is Creighton Island in Georgia, a very special recreational airfield the RAF has helped preserve. Most of the island is undeveloped and remains much as it was in the Civil War era.
"There are very few places in the Southeast like Creighton Island," RAF Ambassador Eric Davis says. The RAF appreciates that the Williams family has agreed to share this special place. Enjoy hiking, exploring, kayaking, canoeing and bird-watching. Visit nearby St. Simon's and the Jekyll Islands: http://www.explorestsimonsisland.com/ and https://www.jekyllisland.com/
There are three cabins with six bunks each — first come, first served. There are unlimited tent spots, fire ring, potable water, hot showers, and a pavilion with propane burners. There is no electricity.
Fall and Winter are ideal times to visit Creighton Island, but you must be aware that the owner permits access to hunters other than Fly-in weekends. Upcoming 2021-2022 Fly-in dates are: November 12-14, December 3-5, January 21-23, February 18-20 and March 25-27. The airfield will be closed due to the presence of hunters on all other weekends. Check the Airfield Guide for updates.
Prior to flying in, you must read the Safety Briefing and enter your tail number, indicating your acknowledgement of its contents. Find the pilot safety briefing here. 
Davis wrote the software and with help from other volunteers, installed a pair of runway cameras that stream video via separate YouTube channels for Runway 36 and Runway 18. "One downside is the island internet service originates from the owner's house on the mainland. So as to not overwhelm his home Internet service, the cameras are rate-delimited and that degrades the video quality," Davis said. The entire system is powered with solar panels.
Field conditions can change rapidly. See the Airfield Guide for the Safety Briefing and other information. For a display of real time weather conditions see the WX tab.