FEATURED AIRSTRIP: GRAND GULCH, ARIZONA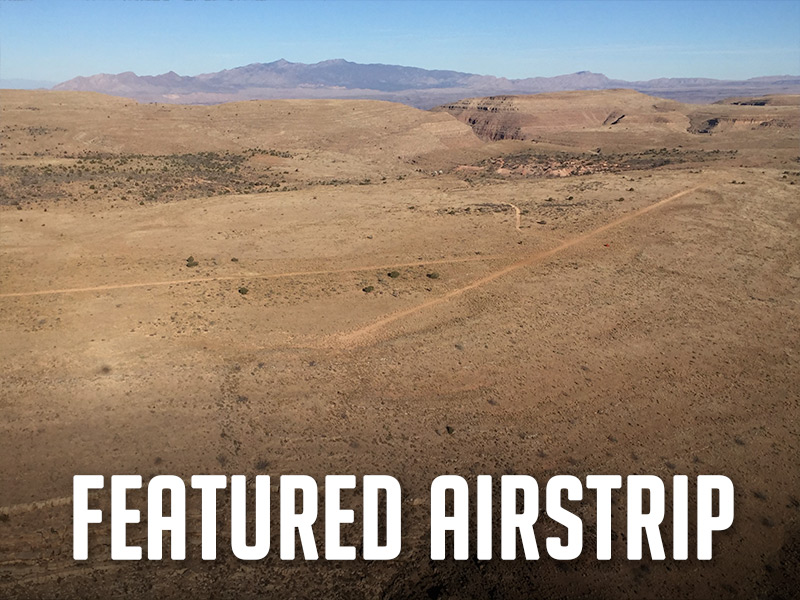 Each month we highlight an airstrip with hopes that you will get out and enjoy these special places. This month's Featured Airstrip is Grand Gulch, Arizona.
It's grand, and there's a gulch. This aptly-named location in Arizona's Grand Canyon-Parashant National Monument is just 50 nm south of St. George, UT. There are two dirt runways at an elevation of 4,516 feet. Daytime views from the airstrip are of the Grand Wash Cliffs. It offers dry camping, plenty of scenic desert hiking, and the BLM has installed an ADA vault toilet. Tie your plane down in the parking area near the windsock, pitch your tent and enjoy sunset as the cliffs turn from bright to dark through a specturm of colors. Night brings a palette of stars in the dark skies, faintly lit by the glow of far-off city lights low on the horizon.
A well-marked dirt road to the north descends from the airstrip and you may take your own tour of the 1873 mine that thrived and starved with the quirks of the copper market, finally closing for good in 1919. There are interpretive placards of the history of the area and the mine. Scattered throughout are tantalizing chips of malachite and azurite. Climb on equipment relics, poke your head into the powder house, bunkhouse, the smelter, gape into one of the mine shafts – but stay out. Rotten timbers no longer provide support. See the National Park Service 12-minute video here.
Departing the airstrip to the south you get a jaw-dropping view of North Fork and Pigeon Canyons. Pilots need to be mindful that 10 miles south of Grand Gulch airstrip is Grand Canyon Special Use Airspace with altitude requirements.
The BLM/NPS reminds that collecting is not allowed. Please take nothing but photos, as it is a protected historic site. The site is accessible by suitable 4×4 vehicles, and gets a fair amount of visitation, sometimes in groups of off-road vehicles.
Find Grand Gulch in the Airfield Guide.
Submitted on November, 30, 2022.