FEATURED AIRSTRIP: LAS TRANCAS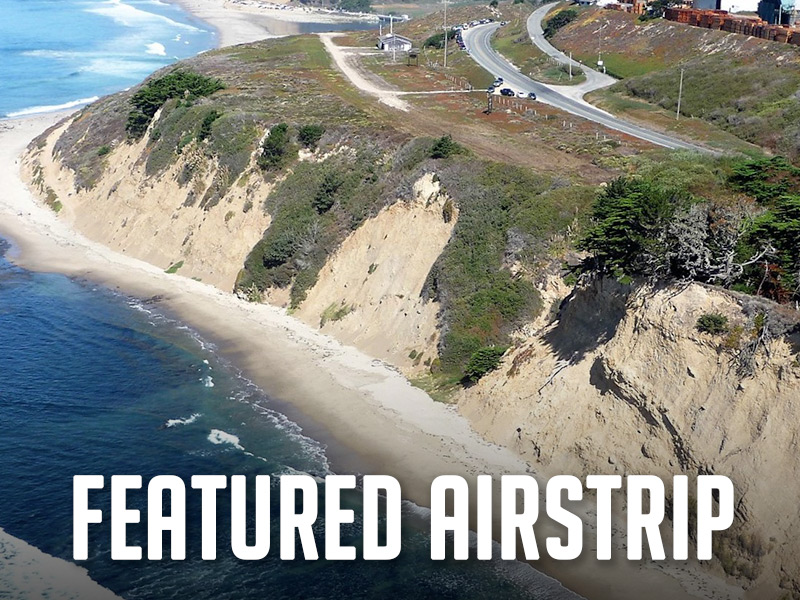 Each month we highlight an airstrip with hopes that you will get out and enjoy these special places. This month's Featured Airstrip is Las Trancas in California.
"It's hard to put into words how beautiful Las Trancas airstrip is," RAF President Bill McGlynn says. The strip north of Monterey Bay provides pilots an opportunity to enjoy spectacular Pacific coastal scenery and easy beach access. The 800-foot strip, 17CL lies just 125 feet above the beach. Camping is permitted on the field and a trail takes you down the cliff to the privately owned seashore where you are allowed to camp as well.
Owner Big Creek Lumber Company signed a lease with the RAF to preserve this spectacular destination for public use.
Sustainable forestry pioneer Bud McCrary created the strip from which to fly his 1964 Skylane to survey his family's vast timber holdings and spot fires in the region. RAF Director Tim Riley and local pilots knew the airstrip and Bud, and began earnest discussions about the future of the property before Bud passed. "Without the RAF's agreement with the McCrary family, this airstrip would have disappeared over time," Riley said. McGlynn added, "We can't thank the McCrary family enough for this personal commitment to preserving this airfield and its history for the future."
More information and the required safety briefing is available on the Airfield Guide.