FEATURED AIRSTRIP: RUSSIAN FLAT, MONTANA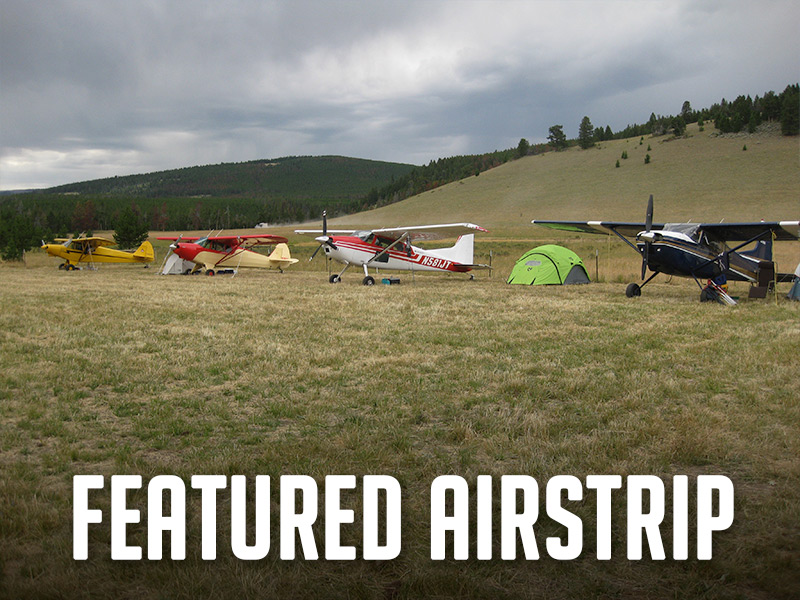 Each month we highlight an airstrip with hopes that you will get out and enjoy these special places. The July Featured Airstrip is Russian Flat, Montana.
Russian Flat was just a twinkle in the eyes of recreational flying enthusiasts in 2003, and since 2010 when this brand new airstrip opened, has been the place for many campfire chats under a clear Montana sky.
Through volunteer efforts of the Montana Pilots Association, (MPA) and the RAF, the prospective airstrip was included in the Lewis and Clark National Forest Travel Plan, and construction was approved. Century Companies of Lewistown, Montana donated labor and equipment to begin creating the first public airstrip on Forest Service lands in 45 years.
RAF Founding Director and MPA volunteer Dan Prill steered the effort from its beginning, shepherding the project through the public planning process, working closely with Judith District Ranger Ron Wiseman. Prill obtained an RAF grant which provided funds for materials. During constuction, former AOPA President Craig Fuller visited, and said, "Russian Flat airstrip is a wonderful example of how a local pilots organization like the Montana Pilots Association in conjunction with the Recreational Aviation Foundation can work to bring a facility like this to the public."
Armed with hand tools, sunscreen, insect repellant and a lot of enthusiasm, groups of MPA and RAF volunteers, families and guests worked throughout the project, and celebrated during an August, 2010 weekend, putting the finishing touches on M42. Then-MPA President Wade Cebulski said, "I've been pleased at the exceptional turnout of volunteers at Russian Flat. It wasn't an easy project."
Ranger Wiseman said, "We appreciate the high level of cooperation from all different aspects of the pilots. The volunteers respected our requests for low-impact access, and minimal disturbance to the land." At one of the many work parties he attended, he said, "Saturday evening was quite a sight . . . people sitting around a fire together, really enjoying the opportunity."
Russian Flat is adjacent to a tree-sheltered USFS "Leave no trace" campground and vault toilet. Visitors can enjoy catch and release fishing in the South Fork of the Judith River, about a mile's hike.
The 3,000-ft runway lies at an elevation of 6,300 feet and is open to cattle grazing. There is a corral for aircraft parking. For more information, see the Airfield Guide.