FIRST REGIONAL MINI CONFERENCE (RMEC)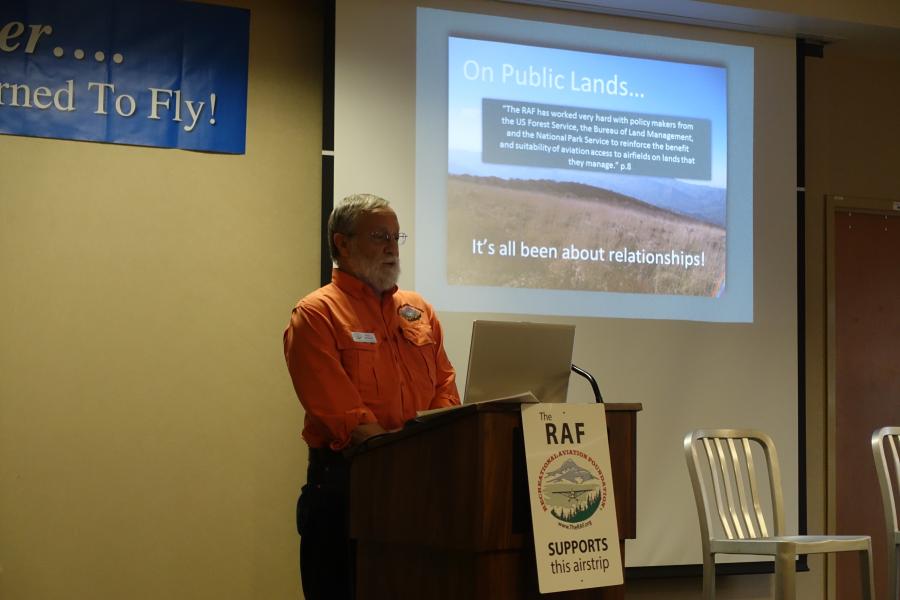 Over two dozen RAF volunteers participated in the first RAF Mini Educational Conference, "RMEC" at Henderson, Nevada's Executive Airport on Saturday, February 18.
Typical of the RAF, it was a high-energy day preceded by an informal meet-and-greet Friday evening.
"This conference was short and highly efficient, something that is important to my packed schedule," said Mark Spencer, AZ and Federal Lands Liaison. "I felt that the smaller size group allowed us to mingle enough with each other to actually make a difference in our relationships with each other," he added.
RAF Director Bill McGlynn kicked off the meeting and Director Jack Tyler opened a productive conversation about the RAF "high-touch" approach to the job of state liaison.
Panel discussions included BLM managers who emphasized the importance of being knowledgeable and involved in public lands planning. Montana State Liaison Scott Newpower moderated a discussion with Nevada's, Idaho's and Montana's Aeronautics Directors. "The RAF is different than all other aviation groups," said Idaho's Director Mike Pape. "Stick to your mission and you can accomplish things the others can't" he added.
The theme "make friends, not demands" came up early, and was repeated throughout the day.
New York Liaison Russ Holland travelled the farthest to attend, and walked everyone through the new RAF Guide for the Private Airfield Owner. Discussion followed as to its benefit to the RAF mission.
A roundtable discussion ended the formal part of the conference, but plenty of relevant chat continued during the social meal Saturday evening at the Fireside Restaurant and Tavern.
The goal of these dispersed "mini" conferences is to focus more closely on regional issues, as well as make them more accessible to RAF volunteers. The RAF wishes to thank everyone who made the effort to attend and for making the event such a success.
The next RMEC will take place at Hicks Airfield, (T67) Fort Worth, Texas on March 17-19. 
Submitted On February 20, 2017.