The airstrip at Grand Gulch, AZ, near the north rim of the Grand Canyon was the scene of a work party Mar. 16 headed up by Recreational Aviation Foundation southern Utah Liaison Wayne Loeber. Thanks to last year's efforts by the RAF to commit to a maintenance agreement with the BLM and National Park Service, access to this historic airstrip has been assured for years to come. The first all-volunteer work party took place last May, involving volunteers from the RAF, Utah Backcountry Pilots and Arizona Pilots Assoc.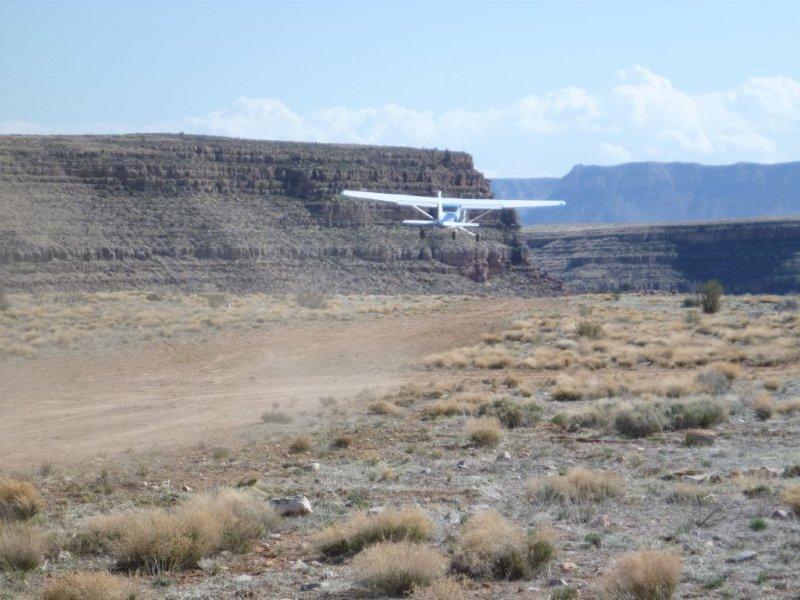 RAF Utah Liaison Steve Durtschi, RAF volunteers and Utah Backcountry Pilots cooperated on this year's project. Weather was ideal and a half dozen folks flew into the dirt strip, located just under 50 miles southwest of St. George; others endured primitive canyon country roads to arrive there. The help came from around Utah and New Mexico; a Cessna 206 from near Hurricane, UT landed, bringing two pilot friends from Alaska.
Volunteers were greeted by Matthew Hintzman from Grand Canyon-Parashant Nat'l Monument.
Teams worked both runways, using hand tools to improve the approx. 2,500 ft N/S and mechanically dragging the E/W runway.
"The north-south is in reasonable shape and east-west is okay for backcountry aircraft and will improve as we get more rock thrown off," said Gordon Rock, RAF volunteer who flies out of the Seattle area and St. George, UT.
Submitted on March 20, 2013.