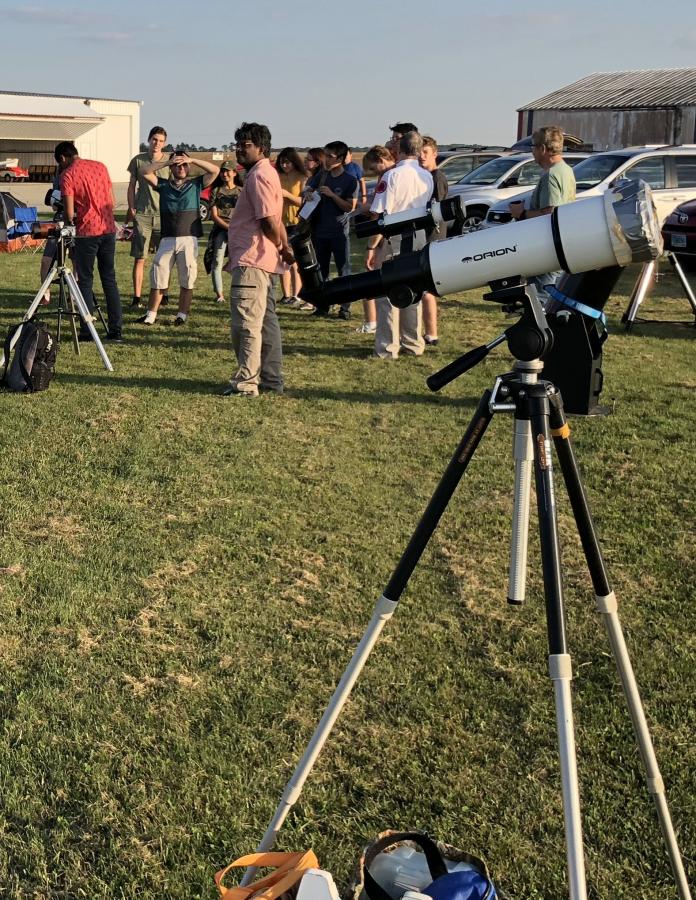 It's hard to top RAF Illinois Liaison Mike Purpura's imaginative fly-in themes, especially when they're "out of this world"! This time, he invited astronomers and astrophysicists from the University of Illinois Astronomy Club to Havana Regional Airport (9I0) for a fly-in June 23-24. The local EAA Chapter 1420 organized a Friday dinner, camping and a pancake breakfast. Mike issued invitations to arrive at the beautiful grass strip before the runway lights and beacon were darkened at 9:30 and the conditions were perfect for guided Celestial observations to begin.
Leslie Prellwitz, 99s Director and Chicago Area Chapter president wrote, "RAF Illinois Liaison Mike Purpura gave a 99s webinar in February about recreational flying, and I got hooked on the awesome locales he described. Being a quite amateur astronomer, but wanting to know more, I couldn't pass this one up!" University Astronomers manned four big telescopes long into the new-moon darkness. Leslie continues, "when I just couldn't keep my eyes open any more, we made our way back to the tent, and I snuggled down with sleeping bag and pillow, images of Jupiter and moons, Saturn and rings, Cassiopeia, Lyra, Cancer, Leo, Scorpius (awesome constellation, that one!), Canis Major and Minor, and so many more, in my head." RV pilotPete Howell attended, and commented on the VansAirforce.net forum: "The EAA Chapter and the RAF hosted an "Out of this World" Astronomy Fly-In Camping Night. BEST. FLY-IN. EVER. This was a seriously great time. Kudos to EAA Chapter 1420 and the RAF for a great idea and flawless execution!!" Paul F. Dye, Editor in Chief of KITPLANES Magazine replied, "Looked like a really cool idea for a fly-in."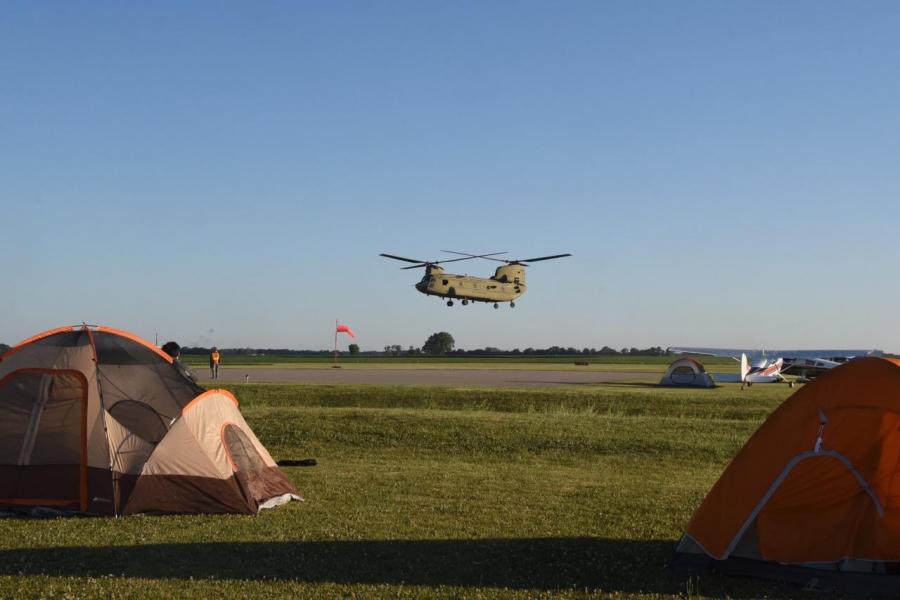 Dawn Haken of the University Astronomy Club summarized their experience, saying, "We had a great time! We love making astronomy accessible to the public. It was great talking to the mix of people who came, some of whom owned telescopes and others who had never looked through one before. It was really fun showing people the first views of Jupiter as the sun was setting. Personally, I've seen Jupiter many times, but it's impossible not to get excited right along with a little kid who's seeing it for the first time. We really couldn't have asked for better conditions. Hopefully we can do this again sometime!" Quoting more of Leslie's message, "The event was very well attended, not only from people who flew in, but also many locals who came out for the viewing party, so it was a great mix of aviators and 'could be' aviators, and promoted the airport as well as stargazing . . . well done!" The RAF wishes to thank everyone who attended, helped, and for the support of the Havana Airport Authority. Photos above courtesy of Pete Howell.
Submitted on June 29, 2017.