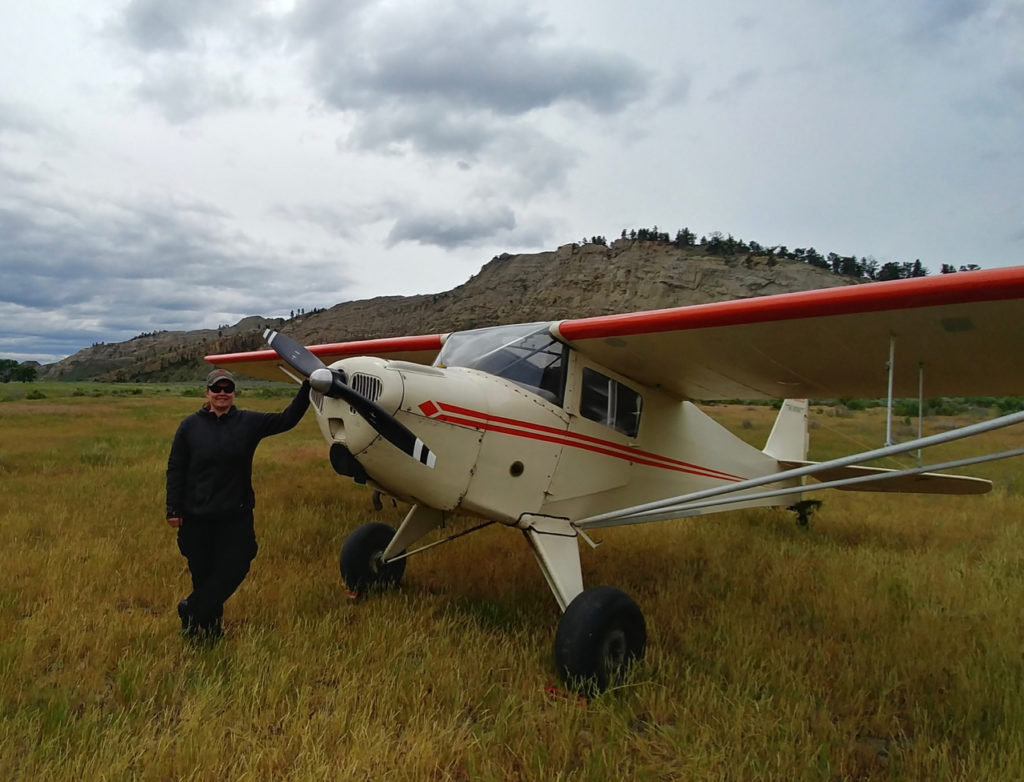 Heidi Stoeppler found a group of what quickly became "the best friends I've ever made," at an RAF fly-in. She visited with Jeff Russell, joined, and when her professional flying permits, she digs in at the work parties, too.
Watching cropdusters in Montana, she knew she wanted to fly. Not from an aviation family, her path to a flying career began as "an escape. I didn't get any family support," she says. She began with a very demanding job loading chemicals into spray helicopters in California for four years, saving her money for flying. "The first time I got a ride in a helicopter, the pilot asked if I wanted to be a pilot. It was my opening."
Currently based in South Dakota, she lives the RAF mission as she flies her 1946 Taylorcraft all over the country and camps at most places she goes. Professionally, she flies Caravans for CSA Air, a FedEx contractor. "She is a hard worker and has a smile on her face all the time," Russell said. Heidi did get a few hours spraying out of an Ag Cat, and has earned MEI, CFII, Seaplane, and Commercial glider ratings to her logbook, that currently has over 4,000 hours in it; over one thousand of which are in her Taylorcraft. Flying is truly her vocation, avocation, and vacation.
What is her dream job?
"Flying a DC-3," she says, without hesitation. "Or the OV-10 Bronco."
"Do you ever feel you were born 50 years too late?"
"This is the perfect time for me," she replies. "There are so many opportunities in aviation. I can fly freight, spray crops, fire patrol or attack, I can ferry aircraft, instruct. In fact, there are so many jobs out there, and I can only do one a time!" she adds. "As long as I'm around flying, I'm happy."
The RAF is proud to call Heidi a member, and some of her stunning photography has won the RAF photo contest, and has appeared in RAF publicity.
by Carmine Mowbray
Submitted May 15, 2020