JANUARY FEATURED AIRSTRIP: CHICKEN STRIP, CALIFORNIA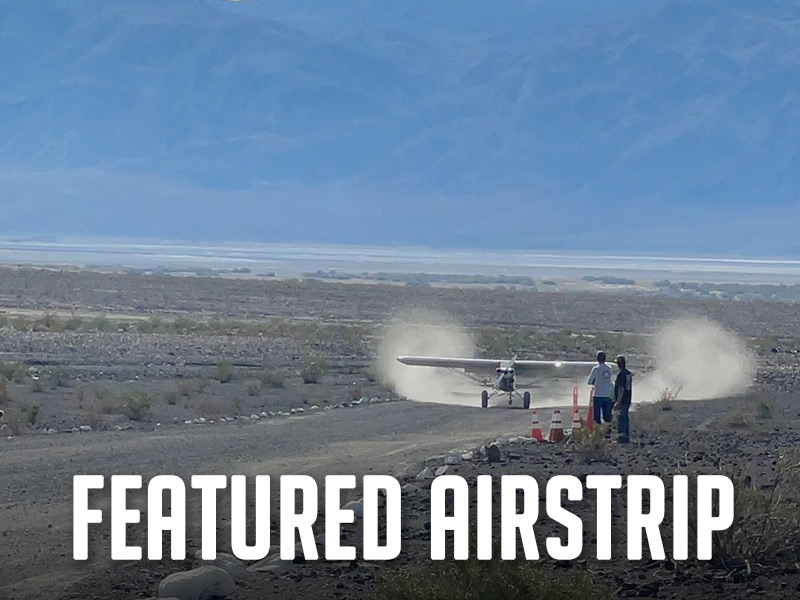 Each month we highlight an airstrip with hopes that you will get out and enjoy these special places. This month's Featured Airstrip is Chicken Strip in California.
Just a short flight east of Lone Pine, California between the Inyo and Panamint Mountain ranges is the Saline Valley, a remote region of Death Valley National Park. A historic airstrip affectionately called "Chicken Strip" has been preserved but does not appear on FAA charts. Once you tie down beside the 1,300 foot slightly uphill gravel strip, your reward is camping under pristine night skies, and the opportunity to take a short hike through the scattered creosote bush and soak in any of three palm-lined hot springs. Atlas Obscura calls the area, "a surreal, clothing optional oasis for the hardy souls who relish in the challenging pastime of hard desert camping."
Since the 1960s, the abandoned mining area has attracted unconventional wanderers and seekers of solitude, and as a result has become a colorful colony of transient campers dispersed over a three mile area. Quirky creations made from abandoned mine relics and local rocks appear randomly. Brown-eyed wild burros often make friendly visits.
Ironically, this place in the nation's driest climate suffers seasonal downpours with washouts that close the strip. For years, intrepid volunteers have endured hours driving over rough roads to return the strip to a safe condition by removing debris and baby head rocks, dragging the surface, and restoring drainage diversions.
The RAF signed a formal cooperative maintenance agreement with the National Park Service in 2008, and added volunteers for the effort. This Memorandum of Understanding, or "MOU" agreement was the first such compact between the NPS and a pilot organization, a major step to ensure aircraft's low impact form of access to the park.Flying to Chicken Strip you are in the Saline MOA, with airspace limits of 200 to 17,999 feet AGL. Check your chart for contact information. Campers glimpse occasional low level jet fighters on their way to "Star Wars Canyon" to practice "500 feet, 500 knots," momentarily blasting the desert quiet with the thunderous roar of U.S. military might.
View Chicken Strip in the Airfield Guide.
Submitted on December 20, 2022.