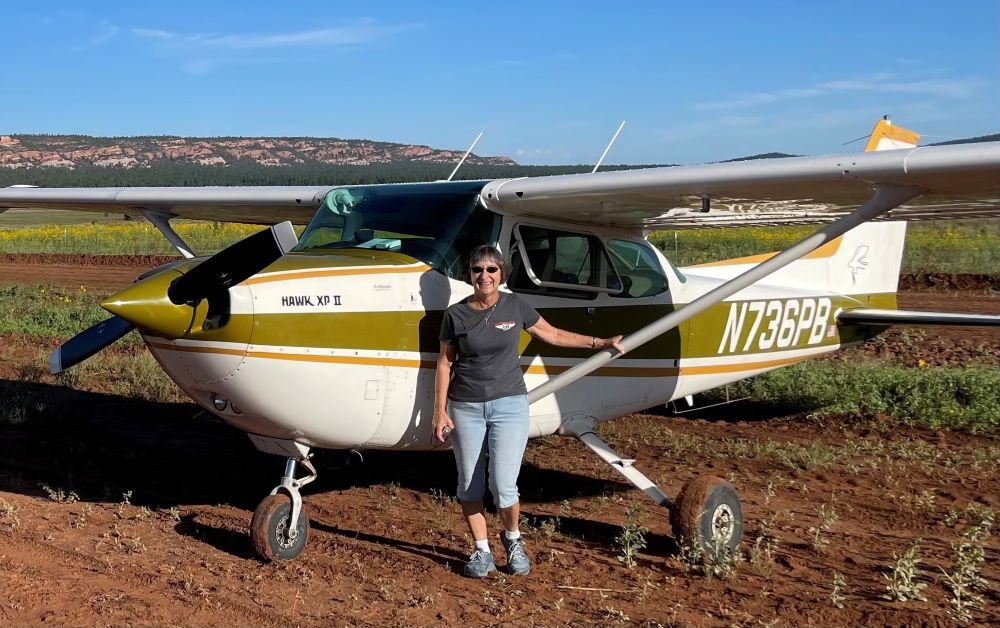 Joyce Woods simply and wholeheartedly "gets it" when it comes to the RAF mission. Not only does she get it, she loves to work with people to make a difference in aviation. "I'm a facilitator. I work behind-the-scenes, pressing for clear action plans and follow through."
Maybe her career in chemical manufacturing prepared her. But it's obvious she has a passion for sharing her love of flying around her adopted state of New Mexico with its great year-round weather and landscapes. "We moved here for the flying," she points out.
Joyce and her husband Art are both pilots. "I married into flying," she says. Art got his license out of high school; his father and two uncles were pilots. "Our first airplane was a Mooney," Joyce said, "It was like having a sports car that I couldn't drive," which motivated her to get her license. "That was thirty years ago," she adds. Now Art flies their RV-7A and both fly Joyce's Hawk XP which is great to explore the NM backcountry.
New Mexico has seen a lot of success preserving and re-opening airstrips, and Joyce is quick to credit a long line of RAF predecessors, beginning with RAF Director Emeritus Rol Murrow, and former New Mexico Liaison (now Ambassador) Larry Filener. "With their vision and a strong core group of volunteers including current NM Liaison Ron Keller, we've gotten a lot accomplished," Joyce says, adding, "Ron Keller is a workhorse! He's great to work with, brings valuable experience and gets the job done!"
In 2010, Joyce became president of a struggling New Mexico Pilots Association. Catching wind of a group forming a backcountry group, she encouraged them to create a Backcountry Committee of NMPA. John McKenna made a visit and inspired them to carry out the RAF mission in her state. She was instrumental in organizing the New Mexico Airstrip Network in 2014 with Rol, Larry, Ron and then-State Aviation Director Steve Summers, inspired by Idaho's network. By 2016, a historic MOU was signed at the USFS Regional Headquarters in Albuquerque formalizing "the collaborative partnership of federal and state agencies, aviation groups, landowners, and other stakeholders to preserve, promote, and enhance New Mexico's growing inventory of recreational airfields."
The continuity provided by the MOU has assured support for airstrip rehabilitation and development, despite leadership succession in member organizations. Negrito Airstrip now has a vault toilet, fire ring, picnic tables, and a kiosk, all due to NMPA and RAF volunteers and partnership with the USFS. BLM's Cuba Landing Strip, NM2 is back on the charts with plans for future development.
"We moved the base for the annual Gila Fly-In from Negrito to Reserve, T16 to more visibly demonstrate the aviation tourism potential and how valuable these remote airstrips are to rural communities," Joyce says. Reserve provides easy access to seven USFS airstrips, two of which were restored and reopened since 2020 by RAF and NMPA volunteers – Rainy Mesa, NM54 and Sacaton, NM16. "We are no longer invisible," she says. "Our fly-ins are an economic boost to area businesses." State and local agencies recognize the opportunity and are supporting development including a Reserve airport terminal building project now underway. "There wasn't even a Porta-Potty before," Joyce says.
There are several annual fly-ins to New Mexico backcountry airfields, hosted by NMPA with support from the RAF. "Through partners in the Airstrip Network, we've organized events at local community airports to coincide. For example, Ron hosts the annual Amigos del Cielo Fly-In, NM90. Nearby, the Lordsburg Airport (KLSB) was threatened with closure in 2019, so NMPA coordinated with the city and NM Aviation Division for a community fly-in. "Pilots come to refuel their planes and Lordsburg serves up a great lunch while the community sees the value of their airport," she says. RAF Supporter Perry Null coordinates with Ramah, NM locals to host the annual Mystic Bluffs, NM56 Fly-In, "known for the biggest and best breakfast spread ever – another remote community that loves to mingle with aviators," she adds.
The Woods' desire to share aviation includes active involvement in EAA, providing Young Eagle flights and supporting adult pilot students and youth scholarship recipients.

We hope you catch Woods' irresistible enthusiasm for flying in New Mexico. Bring your camping gear, your appetite, and prepare to enjoy clear skies, great hospitality, and plenty of choice destinations.
Submitted on October 9, 2023
By Carmine Mowbray