LAURA HAEFELI IN RUNNING HALL OF FAME
Out in grizzly bear country, the advice is, "Always hike with someone slower than you."
You get the idea.
You'll want to hike with someone other than Laura Haefeli, wife of RAF Colorado State Liaison Tom Haefeli. The couple lives in Del Norte, CO, and operates a beekeeping business.
Laura was just inducted into the Colorado Running Hall of Fame, as a multi dimensional athlete. "She has competed on the track, roads, mountains, trails, and biathlons at a very high level. Laura was a standout at University of Dayton gathering an All American Div. 1 status as well as being inducted into the University of Dayton Hall of Fame," according to their website.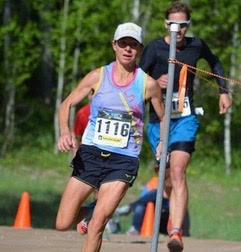 Her many athletic accomplishments include USA Track and Field 2015 Master's Runner of the Year, and Laura has captured Mountain Runner of the Year honors six times.
Laura, mother of three, also makes time to share her passion for running by coaching high school cross country. San Luis Valley named her Coach of the Year in 2004, 2010, and 2015.
She has proven that she's got the best chance of outrunning a grizzly! The RAF congratulates Laura for her incredible achievements, and her support of Tom and the RAF mission.
Submitted on March 13, 2018