LEE BOTTOM SITE OF SINFUL SUNDAE
We were very pleased with the turnout at this year's Sinful Sundae event at Lee Bottom Flying Field along the Oho River in Hanover, IN (64I). Volunteers Bill McCormick and Mike Grecko helped me host a total of 120 folks and 65 aircraft June 9-11 and we signed up 14 new RAF members.
The weekend was perfect for our RAF Trail Campout #6. We spent the day exploring the area, some on bicycles while others walked to the nearest river access and tried fishing but mostly got stuck in Ohio River mud. After a pizza dinner Friday night we enjoyed a bonfire and a full moon well into the evening.
Saturday morning I cooked breakfast for the campers and we relaxed while some flew out to other local events for breakfast and/or lunch. Saturday, about 25 aircraft flew in and some stayed for dinner. For a fun family activity, local artists led a painting session. Participants of all ages created their own painting of birds silhouetted in a sunset.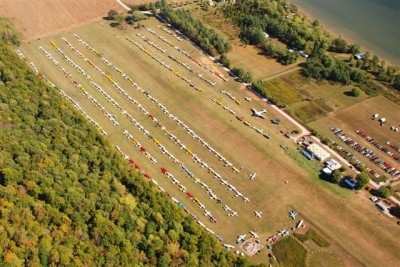 It was organized by a member of Women in Aviation whose three children were enthusiastic campers and led the marshmallow roast. We had another bonfire and enjoyed yet another beautiful evening along the river. Sunday morning we provided pancakes and sausage for the campers and the growing number of folks flying in anticipating ice cream at noon. We ended up with 45 more aircraft on Sunday. Many pilots were very pleased to see Sinful Sundae revived, even though traditional hosts Rich and Ginger Davidson were both called out for flying commitments, and were unable to attend. After its initiation in 2004, Sinful Sundae had been discontinued for a number of years. We saw it as a way to boost enthusiasm for this nice airfield, and made plans to invest some time and a modest RAF grant to revive the event.
It was a gamble that paid off nicely, as the RAF was able to donate $500 to Lee Bottom Aviation Refuge, the nonprofit organization created to help maintain the airfield. Overall, the RAF's presence made a positive step toward more involvement from the local flying community.
Submitted on June 26, 2017.