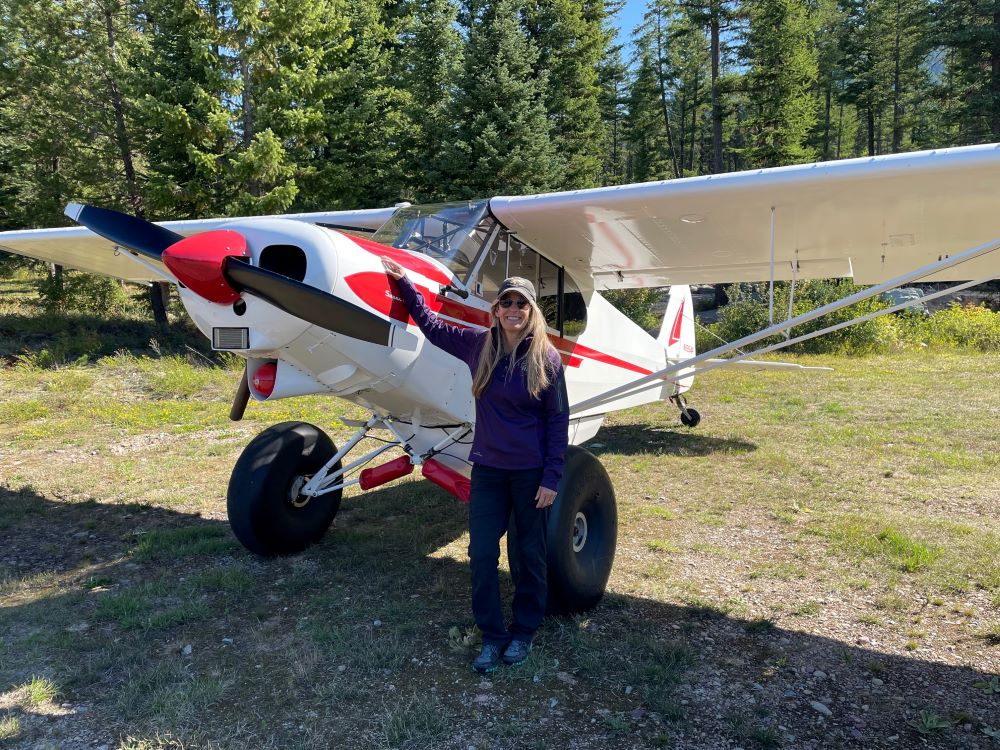 There is no idle season for RAF supporter and hard working volunteer Lynn Mareth, now of Bigfork, Montana. If her Super Cub has to wait out the "soggy turf" season at her home airfield of Ferndale, she can be found on the slopes of Whitefish Mountain or out riding one of her horses along the Flathead River, or she might be helping her husband RAF Director Mike Perkins refresh duck boxes in time for merganser and wood duck nesting season at their home along the Swan River. The couple moved to Montana from their mile-high airfield home in Berthoud, CO in 2019, but have spent most summers at a second home in Bigfork since 2013. After settling into her new location fulltime, she wanted to connect with other active women so she started a women's adventure group on Facebook, and it now has over 300 members. It has succeeded in connecting active women who enjoy all things outdoors like hiking, kayaking, paddle boarding, skiing and horseback riding.

Lynn was born in New York and raised in Connecticut. She met Mike at Purdue University while they were earning degrees in computer technology and business. Lynn graduated in 1997, and worked for Kiwanis International as a systems analyst and designed their new in-house IT system. As soon as they could, Lynn says, "we high-tailed it out of Indiana for the mountains of Colorado." The couple settled in Boulder and started a tech company, which they ran for 22 years before selling in 2019.

Mike's grandfather had been instrumental in New Hampshire aviation. Mike had always wanted to fly but his duties in the Air Force did not include flying. Lynn bought flying lessons for him in 1999 and "he took to it quickly, and had his Private within two months," and purchased their Cessna 180 soon after. But Lynn was one of those who prefers to jump out of airplanes – especially when the jump ship was intentionally flown low on gas, and skydivers were instructed to "get out now" each time the engine quit aloft, so she was pretty leery of flying very far in small airplanes.

She decided to learn to fly to be a reliable backup for Mike. Her flight instructor made her uncomfortable when he told her he'd had a troubling vision of a tragic event that involved her in the Skywagon. A few years later, Lynn and Mike were flying home from Idaho's backcountry with their German Shepherd when a rocker arm boss broke and they experienced immediate engine failure. "Mike was on top of his game," Lynn said, and got it into an abandoned airstrip at nearly 8,500 feet MSL, safely landing downwind, since there was no windsock. "We were ninety seconds to the ground," she said. An FAA representative told them that that kind of failure usually kills people. "After that emergency, I figured that was the event. I was free of bad omens and was much more comfortable flying the 180," she explains.

Lynn's heart was set on a Super Cub, and she borrowed from her 401k, and sold her beloved BMW sports car in order to buy one. Mike flew all over the West, and eventually found one in Billings in 2006 with about 1,500 hours on the engine. Lynn trusted Blackstone Labs for an oil analysis on the older engine, and so far, has flown her Cub over 1,000 hours more.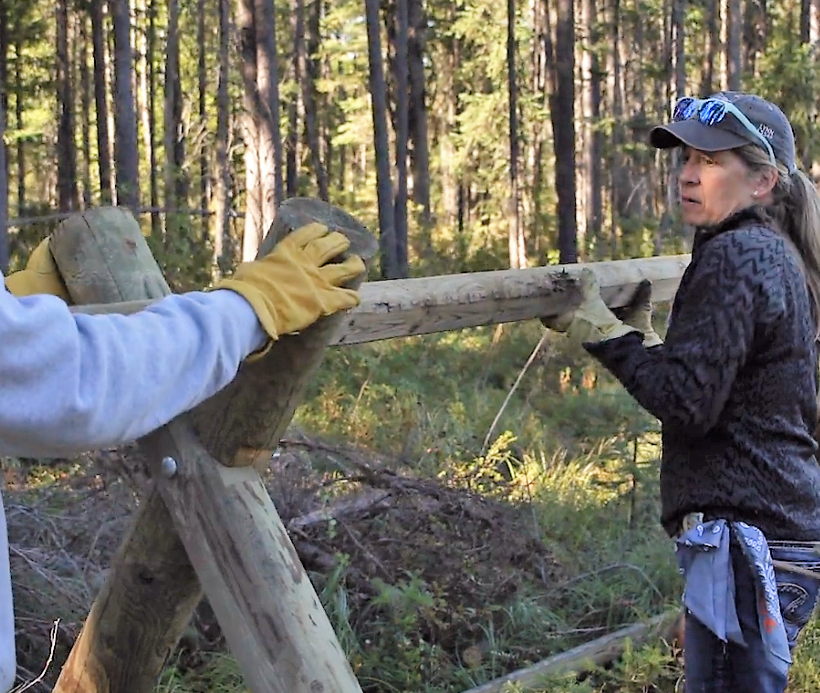 Lynn and Mike were very involved with the Cessna 180-185 Club and with Mike becoming a new Director, they hosted the Cody, Wyoming Skywagon Convention in 2011. Mike invited John McKenna to speak to the group about the RAF and it really inspired the couple to become more involved in the organization. It seemed to be exactly what they love about flying, especially since they now owned both a Cessna 185 and a Super Cub, both capable backcountry airplanes. Visitors to Ryan Field often see Lynn arrive in her red and white Super Cub with the big tires, but she hasn't dropped in just to relax. Lynn is always one of the first to put gloves on and work hard. "I'm very proud of the work that has been done at Ryan Field by so many volunteers and I'm so grateful that it's located in our flying backyard," she says.

"We envision piling in the Skywagon, doing a cross-country, visiting all the RAF airstrips someday," she says, adding, "North Fox Island was definitely a treat, and it's amazing how the RAF has grown. It's really exciting to see how it all started, where we are now, and to envision where we are going in the future."
Submitted on March 14, 2022.