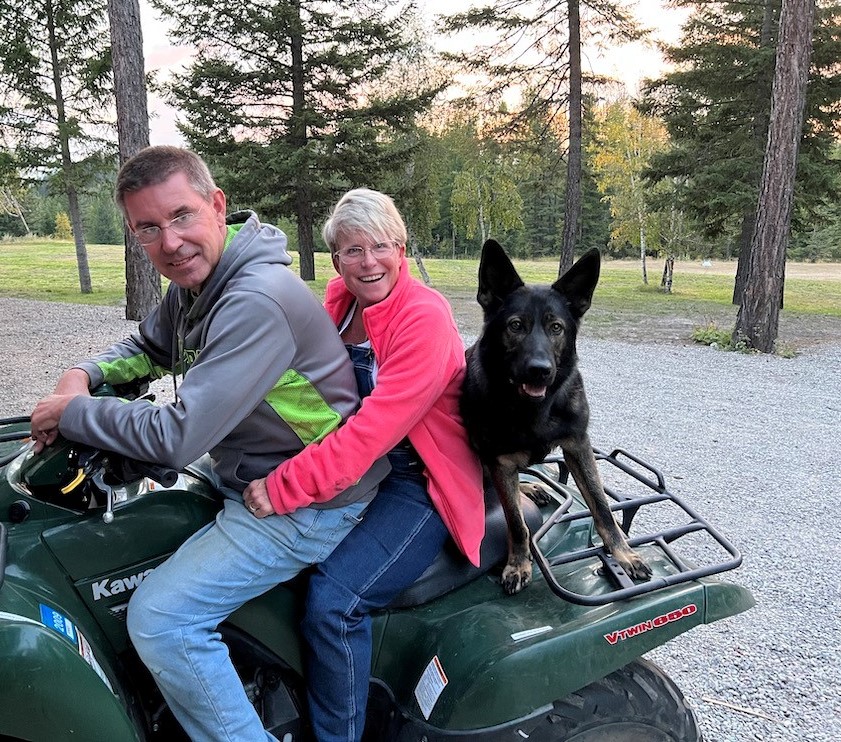 When Scott Newpower came on board as an RAF volunteer and Montana Liaison, the organization gained a real bonus with his wife Mary. Her contributions to the RAF are many, from enthusiastically spreading the word about the organization's mission to cooking feasts for airfield work party volunteers.
The couple bonded through aviation, he as an ATC controller beginning with a four-year assignment at Grand Forks, North Dakota, and Mary as an aircraft dispatcher for UND's renowned aviation program. It was there her interest was piqued by learning the various aircraft and their flying characteristics.
When the couple moved to Billings for Scott's ATC assignment, Mary worked for Corporate Air, a feeder operation for UPS and FedEx.
The couple began exploring the Rocky Mountain backcountry in their Cessna 182, but soon decided on an S-35 Bonanza. That beautiful aircraft is often seen in the backcountry for work parties, USFS meetings, and recreation. Scott retired from the FAA's Billings tower in 2014, then he and Mary built a hangar home at the Seeley Lake airport (23S), a turf year-round airfield northeast of Missoula.
Their son Mark has his PPL, and tailwheel endorsement. He is a medical physicist in Oklahoma. He and his wife have two children. Newpowers' son and daughter-in-law in Billings have two sons with interest in learning to fly.
Mary shares her volunteerism across several areas of need. For the last six years she has served her community as the manager for the nonprofit Loving Hearts Thrift Store. "Forty percent of our population is at or below the poverty level," she pointed out. Mary has gotten community support for Loving Hearts. "I've updated the entire interior and added storage, all with relatively minimal cost to our organization," she says. The store funnels money back into the community with programs that help folks in need. "We gather toys at Christmas, and folks can buy very nice toys for five dollars or less at our Annual Toy Sale. It gives them some buy-in," she added. They stage a summer Fundraiser Fashion Show to raise scholarship money for college, trade school, and non-traditional students. "This year we awarded four one-thousand dollar scholarships to deserving people," she said.
For 22 years, Mary served Montana Pilots Association in several roles. Annual Montana Aviation Conference attendees responded to her sunny smile, opened their wallets for the scholarship fundraising "50-50 Raffle", and she became the most successful ticket booster, tripling previous sales numbers.
"Anything Scott is in, I support," she says, which brings us to her volunteerism for the RAF. "I'm constantly telling people about what we do, and that you can participate and support us even if you don't fly," she said. Recently, she prepared meals for a two-day gathering of key RAF volunteers and USFS personnel at Moose Creek USFS airstrip, after Scott flew her in with all the meal supplies.
Mary and Scott volunteer at the annual Ryan Field Fly-in, and serve as Field hosts. She welcomes fly-in visitors with her bright smile. "I've always loved working at the gathering at Ryan Field, where we meet people from all over the country." Mary is a steadfast ambassador for the RAF mission, adding, "What we do is important. We don't leave a footprint, and deserve to access the backcountry like everyone else. If you support other organizations, you need to support us."

Photo above: Scott and Mary Newpower and Rudder
Submitted on October 12, 2022.