NORTH FOX ISLAND WORK WEEKEND
The North Fox Island work weekend on June 17-19 was a huge success according to Michigan State Liaison Brad Frederick. Seventeen aircraft brought 24 volunteers who cut brush and trees and mowed grass. RAF president John McKenna and board member Alan Metzler found their niche removing ant hills.
George Stevens delivered the port-a-john and assembled it. It was welcomed by all and used by most," Brad said. The new mower worked great, and had been generously flown to the island by Paul Welke, owner of Island Airways in a Britten Norman Islander Aircraft, he has now flown all three mowers out to the island.
As of Mid-June, 45 airplanes had signed in as visitors to North Fox Island. Brad estimates that at least 50 have landed there, since some don't sign in.
"This is the nicest grass airstrip I've ever seen," was heard, among similar comments. Illinois State Liaison Mike Purpura summed up the appeal of the place, saying, "it was nice not to hear any manmade sounds. No trains, cars, trucks, motorcycles and no cell phones ringing. The morning alarm was simply the soft morning light spilling into the tents and birds singing."
The RAF thanks Brad for his leadership in the revival and re-opening of this beautiful recreational destination, and is proud to participate in its maintenance.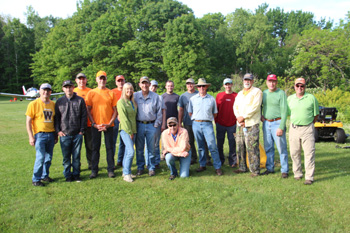 Submitted on June 22, 2016.