NORTHWEST AVIATION CONFERENCE AND TRADE SHOW
The 2011 Northwest Aviation Conference and Trade Show was held in Puyallup, Washington at the end of February. It proved to be another successful venue for our RAF traveling backcountry show. We met lots of new folks, existing supporters, and signed up several new members. It was a wonderful show with over 350 exhibitors, many interesting presentations, and an estimated 12,000 attendees. By Sunday afternoon, we were pretty convinced that all 12,000 had stopped by the RAF booth to listen to our story.
The RAF booth was set-up, worked, and dismantled by Montana Liaison Ron Normandeau, Director Chuck Jarecki and his wife Penny, Oregon member Alan Cossitt, and Washington Liaison Bob Kay. We had some welcome extra help the day of the takedown from Washington member Gordon Rock. With Gordon's help we were out of the hall in 45 minutes.
This year we held a blind bid auction for the first ever RAF-Washington Founder's cap. The only rule was that the highest bidder would win the #1 Evergreen cap; without knowing any other bid. The cap went to new Washington resident Jay Chastenay who recently moved to the Seattle area from the East. Jay has a beautiful Stinson; and, is a good friend of John Nadeau, our RAF East Coast Liaison from Maine.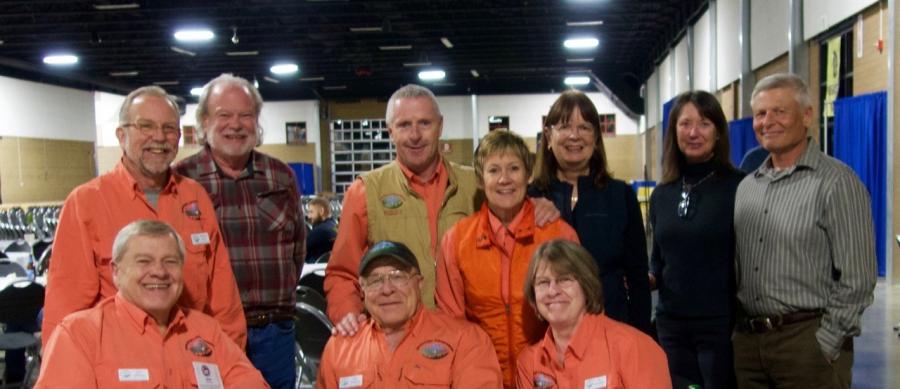 Next year we'll offer 25 numbered Washington State Founders hats at $100 each. The catch will be that there'll be no # 1 hat for 2012 as long as Jay matches or exceeds his 2011 hat bid. If he does not, the 2012 #1 hat will be released. The pressure will be on Jay to perform next year!
Once again, my personal thanks to the out-of-state RAF folks who drove such long distances to put on such a good show. Also, I'd like to add another special thanks to all the RAF "headquarters" folks who worked on all the prep work leading up to the show; we would not have gotten far without your early work.
Bob Kay, RAF-WA
Submitted on March 21, 2011.