OKLAHOMA ADDS AVIATION; PILOTS SHOW APPRECIATION!
Sisemore's event is wildly popular, seeing 60 or more airplanes from as far away as California, New York, and many states in between. One look at the strip and you can see why it draws such a crowd. Sisemore added, "Because Arkansas had already passed their pro-aviation bill, we had to move the event across the state line to Gastons at Lakeview, AR. In celebration of our own recent success, we hosted the OK18 Fall Fly-In Nov. 1—3, 2013 here again."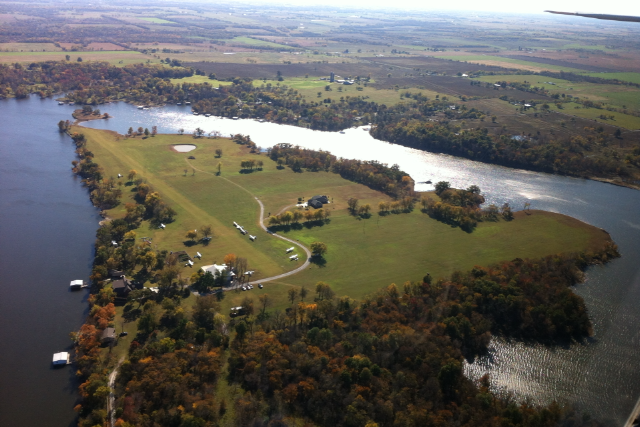 RAF and SuperCub.org member Mike Sisemore of Big Cabin, OK recently reported that his very popular "Tail-Dragger Fly-In" (OK18) will resume on Oklahoma soil again, thanks to the enactment of HB 1009 which amended the Recreational Use Statute, adding aviation activities to the statute. "With the help of Forrest Woods from the Tenkiller Lake Airport we "made the right contact with Rep. Mike Brown. He quickly saw the benefit of this legislation," Sisemore explained. "We then contacted Sen. Sean Burrage who was willing to carry the bill in the Senate, and that gave us the momentum we needed," Sisemore added. "I want to thank the RAF, AOPA and especially Forrest Woods, Ed Fogle, Kirby Crowe RAF state liaisons, Steve Thompson, from Oklahoma and Dave Myrick of Arkansas for blazing the trail for us. This makes Oklahoma the twentieth to add aviation to its recreation law." Sisemore points out additional language that – so far – is unique to Oklahoma: This bill provides attendees can contribute toward food and expenses without triggering "commercial use" status. This is significant, and will serve to encourage similar events that cost money to host.
Rep. Mike Brown concluded his official statement about the new legislation, stating that the bill "is a win for pilots, landowners, the public, and the economic development of Oklahoma."
Sisemore will host the 2014 annual Tail-Dragger Fly-In (OK18) on Memorial Day weekend, and again it will feature a poker run to benefit the Recreational Aviation Foundation. Naturally, many of the friends he's made on SuperCub.Org enjoy the OK18 "Tail-Dragger Fly-In, but Sisemore – currently the owner of a pair of C-182s – quickly points out that all makes are welcome to enjoy the event!
Submitted on November 23, 2013.