In what could only be described as an incredible success, we've gone from "don't touch that building" from the Apache Sitgreaves National Forest, to "Let us help you put up your sign!"
We had 8 aircraft, 17 people, including 2 FS personnel, 3 local ranch hands from up the road, one of which recalled his childhood when the community would put on dances and community events in the old lodge building at the Double Circle. Once one of the largest, and most historic ranches of the southwest it has sat decaying and being destroyed by vandals since 1992 when the FS shut the site down for such use, including the airstrip. It does not sound like a lot of people, but it was more than myself and FS recreation tech, Micah Miller, could coordinate. We got an incredible amount done including a new door to replace the one that was stolen many years ago, new fascia, a repair to a badly rotted joist beam, a segmented circle, and the entire cabin oiled! At the same time we rubbed elbows with very willing and able locals and FS personnel.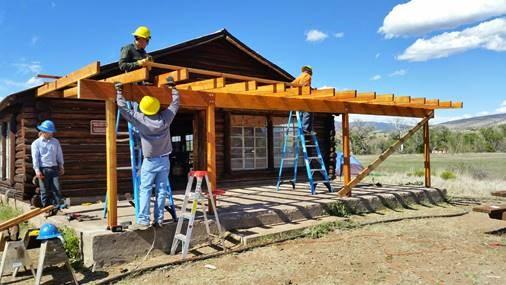 After first re-opening the airstrip, and through careful and steady relationship building with locals, and the USFS, we are at a point now where the train has left the station, so to say, and I don't think there's any stopping it. There's some times when you ask yourself, "is all this time and effort worth it?" in this backcountry thing, but days like yesterday sound a clear YES, it's worth it!
Now all we need is the national backcountry pilot community to discover and help us turn this already incredible site into a first class pilot destination! We need all your help in figuring out how best to market this effort outside of Arizona and New Mexico.
Submitted on September 30, 2013.