OREGON PILOTS MAKE PLANS OVER BREAKFAST
Oregon RAF members got together on Mother's Day to catch up and plan for the future. Twelve supporters in nine airplanes flew from Central and Eastern Oregon into Sunrise Valley Ranch (29OR) on a beautiful spring morning. Attendees enjoyed a hearty breakfast prepared for them by Chef Becky.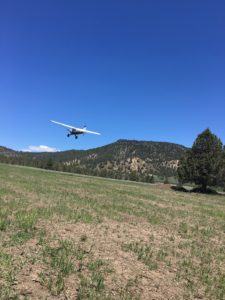 After breakfast we discussed our efforts to maintain a number of existing Oregon backcountry airfields, and reopen several that are disused. RAF member Bill Ables provided a comprehensive update on the status of the Hells Canyon airstrips and the newly reopened Peavine airstrip. I briefed the group on recent discussions with USFS land managers on the status of negotiations for reopening both Big Rock Flat and Fall River airstrips. Attendees made suggestions on how to gain support and best achieve our common objectives.
Everyone was very supportive of upcoming volunteer work efforts planned this summer – the next is scheduled June 1 at McKenzie Bridge.
Sunrise Valley Ranch is an 11,000 acre cattle ranch located 40 miles east of Prineville, Oregon. In 2017, the RAF assisted owners Larry and Susan Fildes to construct an airstrip on their property. Since completion, the Sunrise Valley Ranch has become a popular fly-in destination, offering accommodation and meals. The Fildes family are supporters of the RAF.
Submitted on May 14, 2019