"Meet me by the old oak at the brown arch", for the dedication of another Recreational Aviation Foundation (RAF) "Legacy Rock", on Wed. July 25th at 10:00 AM!
Thanks to the foresight and vision of RAF sustaining supporter Gordon Rock of Mercer Island, WA, the RAF now has the opportunity to sell 37 tribute tiles beneath the iconic brown arch at EAA's Fly-In at Oshkosh. "Meet me by the old oak at the brown arch," is commonly heard, and the RAF's designated area is strategically placed very near its welcome shade at the historic entrance to the flight line.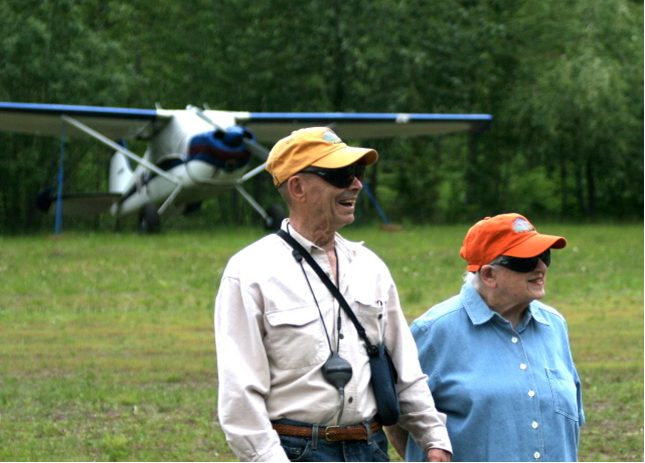 There are over 500,000 enthusiasts attending the Fly-In every year and hundreds of thousands of photos being taken at the brown arch site. In the center of the site a bi-plane is inlaid in the tiles. A spire at the center of the prop indicates the distance and direction to Kitty Hawk. The RAF has termed these memorial two-foot-square tiles, RAF "Legacy Rocks" with the goal of recognizing and paying tribute to the RAF's large financial partners" who support recreational aviation. This venture will establish an endowment to assist in the RAF's long term financial stability. It is the perfect opportunity for folks to fulfill planned giving and estate planning.
In 2011, to recognize RAF's founders and current directors, two inscribed rocks were permanently placed. This year, another RAF Legacy Rock will be installed to memorialize Ben and Butch Ryan's donation of Ryan Field to the RAF. A dedication ceremony will be held on Wed. July 25th at 10:00 AM, under the old oak tree, and the Ryan's on hand. We hope that you will join us.
This will be the ideal launch for the RAF "Legacy Rock" project to pay tribute to our large financial contributors whose generosity insures a generational future for the RAF and its mission. The RAF has come to a point where much good can come as a result of the hard work that so many have put forth.
We look forward to seeing you at the brown arch under the old oak tree at 10:00 AM on Wed. July 25th! See you at Oshkosh.
Submitted July 21, 2012.