PEACH STATE AERODROME HOSTS RAF BACKCOUNTRY OPERATIONS REFRESHER CLINIC
Thirty pilots and about ten aircraft attended the Backcountry Operations Refresher Clinic at Peach State Aerodrome (GA2) on Aug. 10.
The day began at Candler Field Museum with RAF Georgia Liaison Eric Davis's 50-slide PowerPoint. Toby Blanton, a flight instructor, reviewed essentials such as short field techniques and density altitude.
Eric's slide presentation covered RAF accomplishments, followed by a "how-to" explaining how he prepared for his first venture into the backcountry with his Bonanza. "Most pilots in our area have little or no flying experience out west but would like to try it." Davis said, adding,"the audience was very attentive and had a ton of great comments afterward."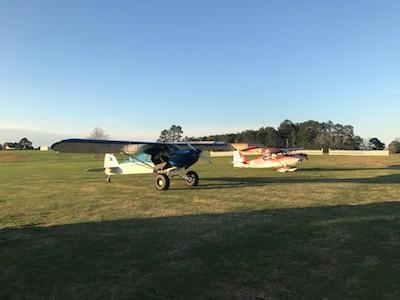 Some in the audience fly STOL aircraft and make extensive use of grass runways, but at Georgia's low elevations, there is not much concern over density altitude or maximum performance. Toby's portion of the presentation generated much discussion and plenty of Q&A.
One of the attendees was Chip Allen, of SWT Aviation of Marietta, GA. An enthusiastic RAF supporter, for every CarbonCub he sells, he includes an RAF membership for the buyer. Here's what he wrote Eric after the event: "You and Toby did a nice job of making this a very interesting and informative subject. As the CubCrafters dealer for the southeast, I look forward to being a pipeline of new members for the RAF. I sincerely appreciate all the RAF does, and I hope you will give me a call anytime I can help. J.S. "Chip" Allen. The RAF is grateful to Chip for providing the CarbonCub for the RAF display at Sun 'n' Fun this year.
A member of the Soaring Society of America was very interested in the RAF's success regarding RUS reform. He said that the RUS reform work is something the SSA would benefit from and could also help promote.
RAF member Ron Alexander – owner of Peach State Aerodrome – offered his facility as often as the RAF would like to use it. He was very complimentary of the program and introduced Eric to the president of the local flying club, who would like to see the RAF make this a regular event.
"Overall it was a great day and rewarding experience which made me proud to wear the orange shirt," Eric said.
Submitted on August 12, 2013.