RAF AND USFS INK AGREEMENT ON GILA AIRSTRIPS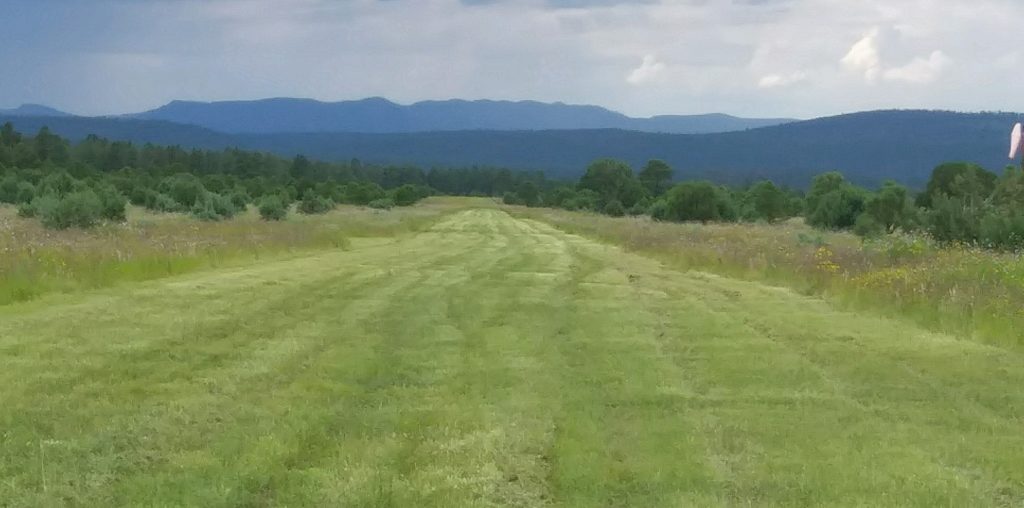 The RAF has just signed a Challenge Cost Share agreement with the Gila National Forest outlining cooperative maintenance to increase public access to five backcountry airstrips: Beaverhead, Jewett Mesa, Me-Own, Negrito, and Rainy Mesa. In addition, the agreement acknowledges mutual desire to return Sacaton airstrip to operational status to increase public access, promote tourism and economic development, while protecting the natural resource. RAF New Mexico Liaison Ron Keller points out that the New Mexico Airstrip Network (NMAN) wrote the Gila Airstrips Integrated Operations and Maintenance Plan that the Forest Service used to enhance justification for this agreement. The RAF and New Mexico Pilots Association are two of the 13 partners that comprise the NMAN. Keller speaks for the NMAN, saying, "I believe that proven results over 10 years and the ability to build trust with the Forest Service enabled the completion of this Challenge Cost Share.
RAF President Bill McGlynn said, "Ron Keller has been tireless in his efforts to take care of the Gila Forest airstrips and I believe that is recognized by the signing of this agreement and the support of the staff in the Gila National Forest."
The Agreement states in part:
Both parties have common interests including increasing recreational access to federal lands, maintaining existing airstrips for recreational access, promoting responsible outdoor recreation use of federal lands and waters, continue to sustain the health, diversity, and productivity of the Nations' forests and grasslands to meet the needs of present and future generations.
The Agreement outlines objectives for safe operation and maintenance, desired airstrip conditions, survey and inspections, and maintenance guidelines for each of the Gila Forest airstrips.
Regarding the viability and legitimacy of airstrips on our National Forests, the Agreement reiterates messages the RAF and other backcountry aviators have long advocated:
• Airstrips are an important part of recreational infrastructure on Forest Service lands.
• Use of these airstrips for recreational access is a legitimate use.
• Airstrips provide low impact method of access to various recreation sites.
• Certain airstrips are important from both a historical and cultural aspects of an area.
• Airstrips provide potential access for emergency services, firefighting efforts, and administrative efforts.
"This agreement took years of patience on Ron's part but it is now coming to fruition with the preservation of the five named airstrips, and the reopening of a long-closed airstrip. A heart-felt thank you to all those involved and especially to Ron for leading the way, " McGlynn added.
Submitted October 13, 2022