RAF CELEBRATES WITH EAA AT OSH; HONORS VOLUNTEERS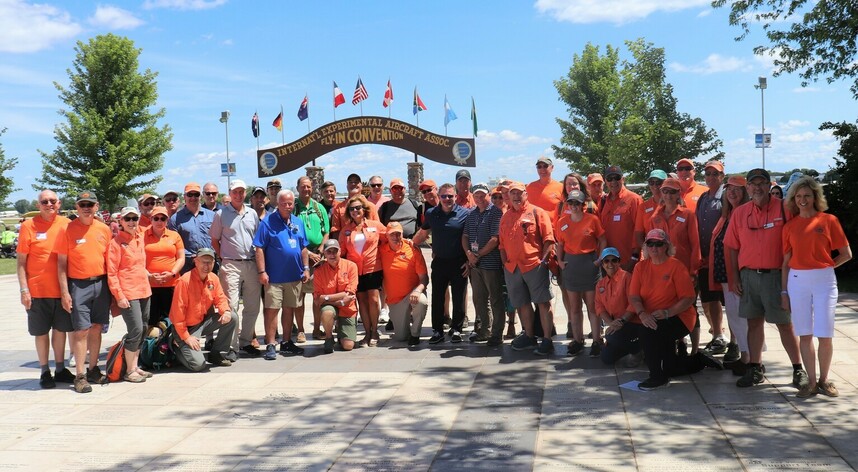 The RAF kicked off AirVenture week on Monday, July 25 with Wisconsin Liaison Amanda Levin and Indiana Liaison Bill Steinmetz sharing "The RAF Way" with a captivated audience; Tuesday morning, RAF volunteers served donuts and coffee atop Hartzell's rooftop booth again this year. "New and longtime RAF friends gathered to share flying stories, talk about the RAF mission and learn how they can become more involved," said Erin White, RAF Volunteer Coordinator. "There were lots of smiles, and it was great to see a number of young faces in the crowd."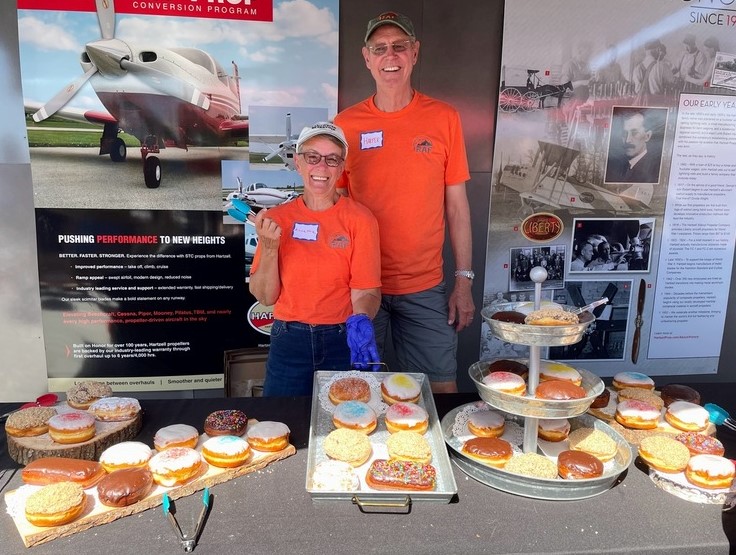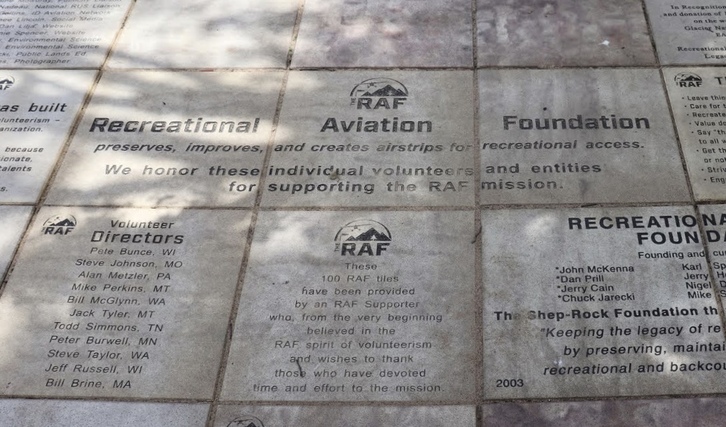 The popular donut reception was followed by a special RAF dedication at the Brown Arch, revealing hundreds of volunteers' names literally "etched in stone" on commemorative tiles.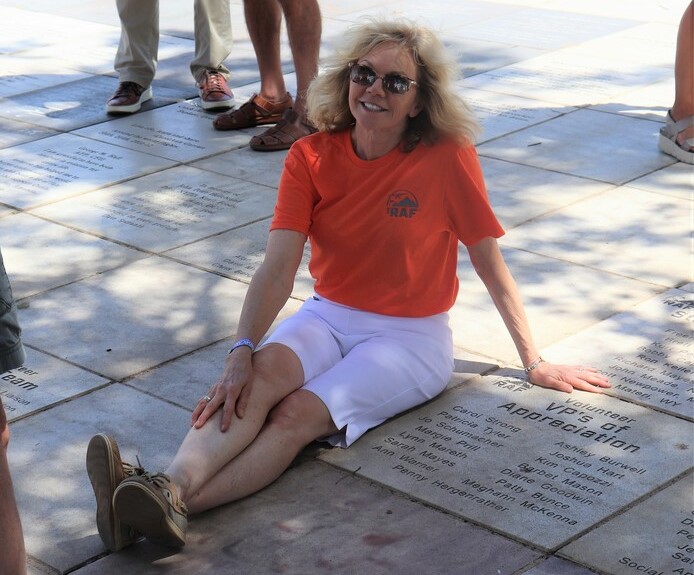 A generous donor had purchased 100 tiles for the RAF to use to honor its volunteers, and the process began last year resulting in nearly 20 tiles with 135 names, which will continue to increase each year.

Photo: VP of Appreciation Diane Goodwin sits with her tile

There were many orange shirts enjoying the shade of the nearby tree as Chairman John McKenna expressed thanks for all that has been accomplished entirely through volunteer efforts. He was followed by RAF Director Todd Simmons, and EAA CEO and Board Chair Jack Pelton, who made time in his busy morning to join the RAF for the presentation and offer words of appreciation.
On Thursday, RAF Arkansas Liaisons Dave Powell and Harper Goodwin discussed Airfield Guide how-to's. Attendees learned how to create tours and interface with ForeFlight. Powell and Goodwin shared news of ongoing improvements, including plans to create a version for use without internet.
Friday, McKenna faced a packed house and shared the RAF video and how the RAF fulfills its mission. He introduced Amy Hoover who detailed technical aspects of backcountry flying.
Saturday, the RAF capped its presence with McKenna's RAF presentation, followed by breakout sessions by Indiana Ambassador JC Carroll and Bill McGlynn on backcountry flying etiquette and techniques – always a topic that fills the hall.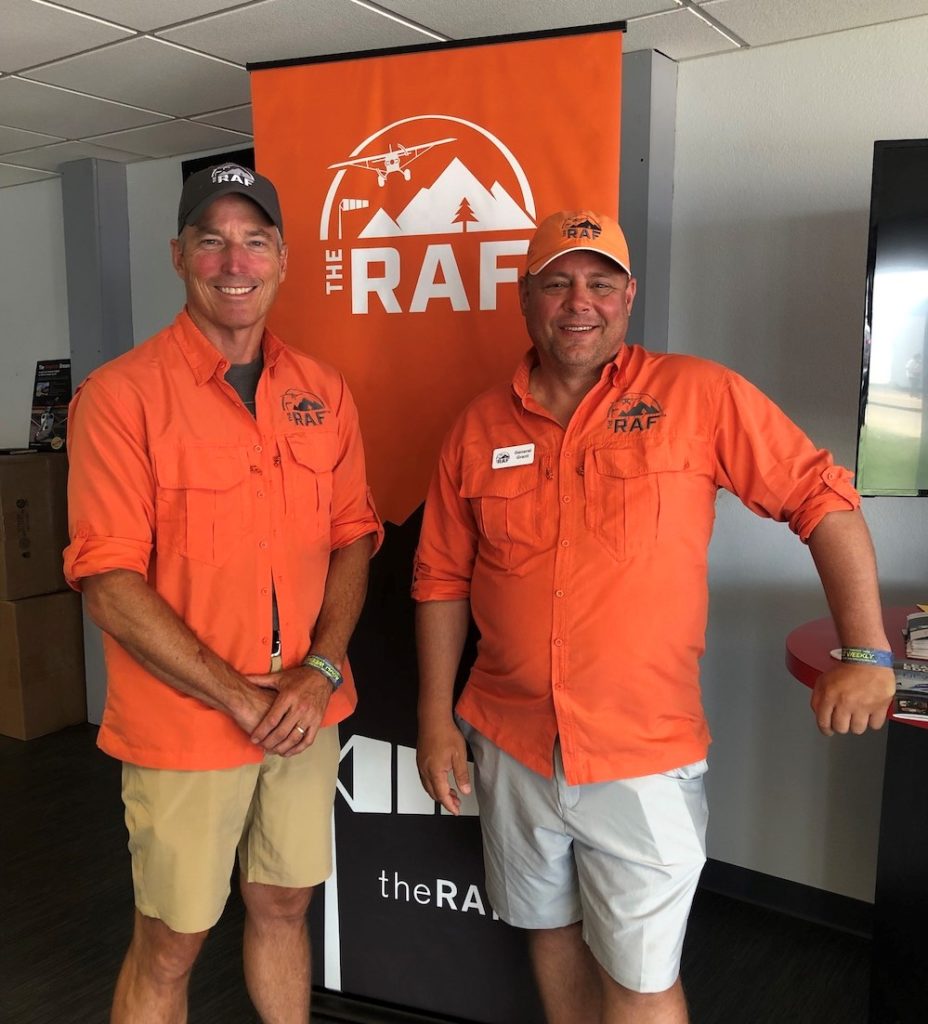 All week, JC Carroll manned an RAF informational table inside the Hartzell booth each afternoon, with help from Amanda Levin, Michigan Liaison General Grant, and Michigan Ambassador John Riordan.
The RAF thanks our friends at Hartzell for hosting us again, and for their generous support of the RAF mission.

A special thanks goes to all our RAF volunteers who made the journey to Oshkosh. Many followed the special ops procedures and landed at OSH; many flew into Appleton or Green Bay and found ground transportation and lodging all at their own expense. We know it is a big commitment, and hope you enjoyed the many fantastic aviation events, as did we.

Tile dedication photos taken by Andre Castro of General Aviation Manufacturers Association
Submitted on July 29, 2022.