RAF HONORS VOLUNTEERS DURING NATIONAL VOLUNTEER WEEK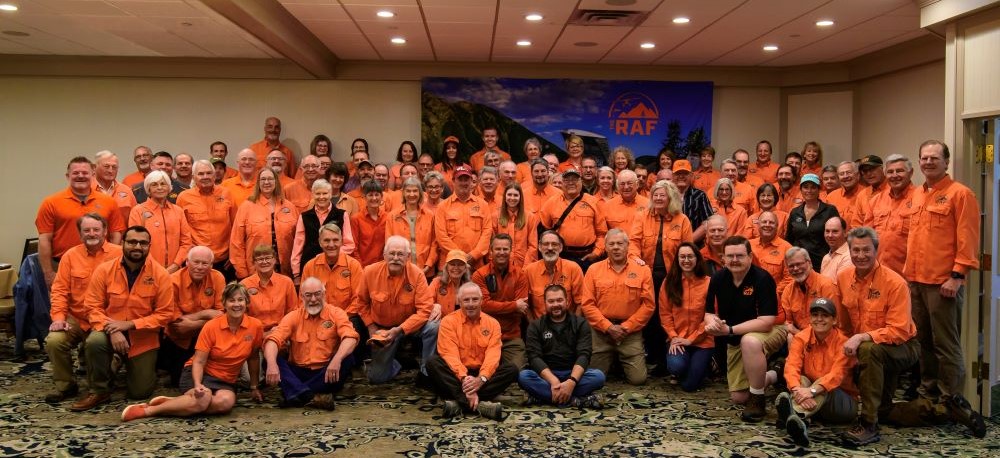 April 16-22 is this year's National Volunteer Week and the RAF proudly recognizes and honors its corps of outstanding volunteers. RAF Board Chairman John McKenna put it this way in his "Worth the Read" essay last month, " 'I got it' was what built the RAF, and continues to propel it forward."
The RAF counts on its entirely unpaid array of State Liaisons, Ambassadors, VP's of Appreciation, and each "key" volunteer who fulfills needs like social media posts, photography and RAF Outfitter mailing. RAF volunteers cheerfully step up for work parties, traveling to sites and assisting for the sense of accomplishment, and because they believe deeply in our mission and are passionate about preserving special places. From the very beginning twenty years ago, all RAF Directors have served voluntarily, giving countless hours to the organization. Their leadership and dedication is invaluable.
McKenna says, "This is your RAF, driven by hard working folks all across the country that have become the RAF family. We work side by side, digging holes for outhouses, plumbing shower houses, mowing grass and oh yes we build campfire spots. We fly, we laugh and then sit around that campfire at night to share our stories. We have celebrated the births of children and grandchildren, weddings and graduations and shared sorrows at the loss of loved ones. The RAF is our family, your family."
A huge Thank You goes to each and every one of you volunteers for everything you do toward the mission to preserve, improve and create airstrips for recreational access.
If this mission resonates with you, we invite you to get involved. Contact Volunteer Coordinator Erin White at ewhite@theraf.org to learn about volunteer opportunities in your state.
Submitted on April 14, 2023.