RAF LIAISON ORGANIZES MONTANA VET FLIGHTS INTO THE WILDERNESS
RAF Montana Liaison Scott Newpower organized volunteer pilots to fly a group of veterans into Meadow Creek (0S1) August 16-18. The Montana Vet Program approached Montana Pilots Association to ask for the lift. Under the sponsorship of Eagle Mount this Great Falls-based group provides veteran-led adventures to promote healing through camaraderie and physical activity. Military vets of all ages experience the backcountry, or what they say, "getting on by getting out." Part of the group's tradition is to carry the "pig egg", a 75-pound satchel weighed down by the 6,839 dogtags of service members killed in Iraq and Afghanistan. See https://www.eaglemount.net/mt-vet-program/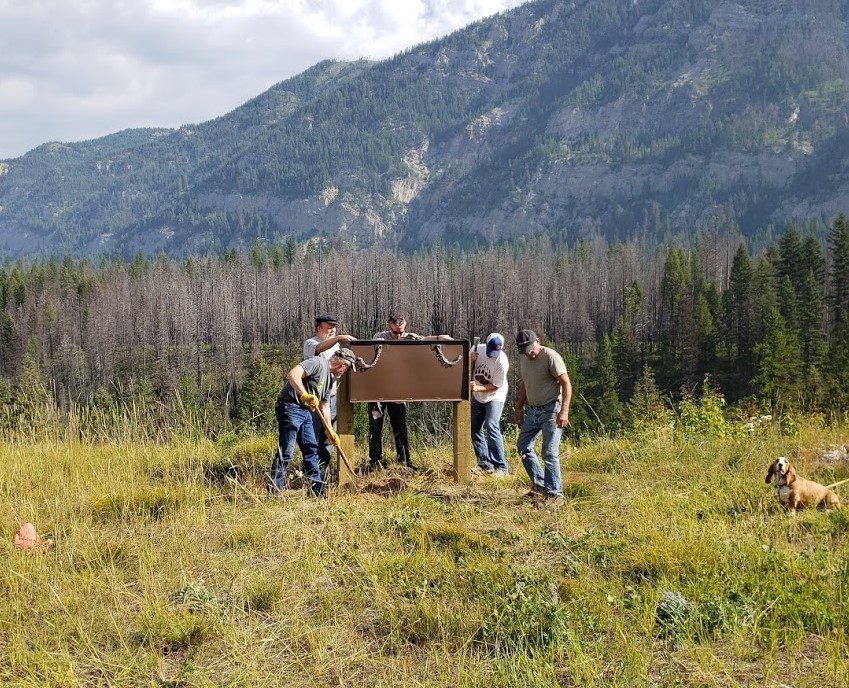 The MPA agreed to fly a group from Seeley Lake into Meadow Creek on Aug 16 and back out Aug 18. Scott — MPA Immediate Past President — organized volunteer pilots with aircraft. Scott, RAF members Mike Lindemer and Wade Cebulski — MT Aeronautics Airport/Airways Bureau Chief — flew five veterans in, where they hiked and explored the South Fork's Wild and Scenic environment. The vets managed to get quite a bit of maintenance work done, as well. They mowed, painted the circle marker, the windsock posts, and stacked firewood that volunteers had cut from the fire-killed trees around the campground area.
Saturday morning, August 18, volunteer pilots Jeremy Goulet from MT Aeronautics, Scott and Mike Lindemer were joined by RAF members Dallas Deardorff and Carmine Mowbray at Meadow Creek to pick up the fellows and return them to Seeley Lake.
"This would have been a helluva hike getting in and out for a 'blind' guy like me," one of the veterans said. In spite of his visual impairment, he had a great time.
Scott thanks each pilot and MT Aeronautics for their help in accomplishing the mission.
Submitted on August 21, 2018