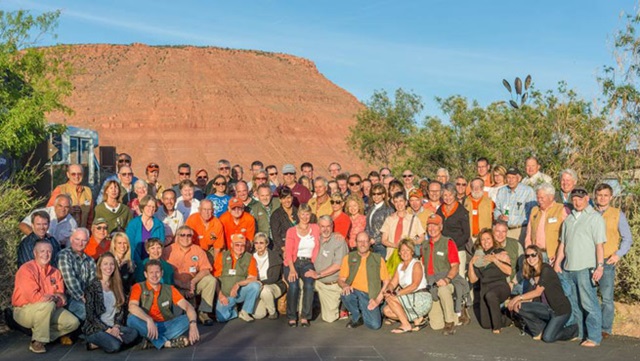 Ninety-three folks participated in the RAF's Red Rock Roundup in St. George, Utah April 21-24, coming from as far away as Maine, Florida, Pennsylvania and Washington, D.C. Many flew in and enjoyed the free tiedowns and discounted gas at St. George's FBO, Above View Jet Center.
The evening began poolside at the Mariott Courtyard with the Mayor's rousing welcome, followed by U.S. Representative Chris Stewart's public invitation to stay in touch. He pointed out that Utah is leading a charge to return federal lands to the states, a cause that property-rights advocates cheer.
The energy level was stratospheric throughout the two and-a-half days' high octane meetings. Kyle Case of Huntsman Games started the formal presentations sharing his philosophy in achieving success with volunteers. He stressed three simple things: Congregate, Educate, Appreciate, all of which the RAF does bountifully.
RAF's Science and Environmental advisors, Ric Hauer and Roger Blew gave an update on the study of the effect of aircraft noise on wildlife.
AOPA's Mark Baker gave a candid prediction of where GA is going, and what AOPA is doing to energize passions in spite of the challenges of high operating costs. One focus is creating flying clubs to keep flying affordable. He gave the RAF much credit for motivating a large sector of GA.
It was very productive for RAF to learn the Forest Service perspective of juggling policy with the needs of their forest users – managing setting-appropriate lands from wilderness to urban. Mary Verry, Chris Hartman and Dolan McDonald discussed their specific roles and how RAF goals fit into national forest land. Montana Liaison Ron Normandeau make points about the USFS complicated comment process. It's imperative to get involved early, and stay involved for the long run.
Georgia's aviation RUS is finally sitting on the Governor's desk, and Wisconsin's Scott Walker just signed theirs, so RAF Georgia Liaison Eric Davis and Wisconsin Liaison Chuck Aldrian were joined by AOPA's mountain states representative Dave Ulane to discuss the progress and pitfalls in bringing aviation language to each state's recreational use laws. The overall theme is that it is a property-rights issue.
Maine Liaison Andy Rowe, Florida Liaison Jack Tyler and Eric Davis discussed tips on being an effective state liaison.
Steve McCaughey gave an energetic update on revived efforts to maintain seaplane access and showed a promotional video including testimonials of presumed opponents – an excellent example of advocacy.
Pete Bunce led a panel discussion on how to approach elected officials and agency leaders.
Accomplished USAF pilot Dave Dunteman gave a stunning "Never-Again" type story about the Tornado Husky he bought and wrecked.
Mt. Aeronautics chief Debbie Alke, Utah Aeronautics chief Pat Morley and Mt. Pilots Assoc. president Scott Newpower spoke on partnering for better outcomes, and credit was given to Utah Back Country Pilots for their early success.
The BLM was represented by division chief Anthony Bobo, who stated that BLM is a grassroots-based agency. The local managers are given autonomy. He received good reports of RAF interactions with his local personnel. He was eager to complete the draft MOU with the RAF, and wanted to "beat the USFS" in completing it.
Morse Insurance Agency presented a speculative policy to cover airfields, which could be a real breakthrough in reducing exposure for land owners and result in more access.
RAF Liaison Patrick Romano outlined his work on an inventory of the Colorado strips.
Pilot Getaways publisher John Kounis and Eric Davis gave a PowerPoint on giving good PowerPoint presentations, and Katie Pribyl, AOPA communications director, former publisher Carmine Mowbray, Wright Brothers Master Pilot recipient Jim Hanson and John Kounis discussed the best way to utilize the media.
Everyone – including spouses – enjoyed traditional RAF hospitality, organized as always by ever-smiling Tricia McKenna. Like a winning basketball coach, RAF President John McKenna kept the plays successful from the sidelines, occasionally taking the microphone to voice appreciation for special guests and contributors.
The days were packed with learning, exposure to new tools and challenges, great food and fun.
Submitted on April 28, 2014.