RAF TAKES SWIFT ACTION TO RE-OPEN CHICKEN STRIP
The "Chicken Strip" at Saline Valley in Death Valley National Park, which was recently closed for safety reasons, should reopen soon due to quick action by the Recreational Aviation Foundation (RAF) with the full support of National Park Service (NPS) managers. Death Valley Chief Ranger Brent Pennington reported that a local volunteer, Lizard Lee, had closed the runway by placing large Xs with white painted rocks subsequent to heavy rains and flash flooding from strong thunderstorms.
Within 24 hours of learning of the closure of the Chicken Strip, the RAF sent their Southern California Liaison, John Kounis, to ascertain the extent of the flood damage and meet with Ranger Pennington. The use of a private aircraft was crucial for this assessment, since NPS personnel have not yet been able to visit the Chicken Strip due to washouts of the access road.
John Kounis provided the RAF and NPS photographs of the airstrip that revealed only minimal damage that could be repaired with a work party employing a small number of volunteers. After receiving the RAF photographs, Death Valley National Park Superintendent Sarah Craighead and Chief Ranger Pennington reaffirmed their commitment to reopen the airstrip as soon as possible. Other NPS personnel involved in the decision were National Aviation Specialist Jim Traub and Regional Aviation Specialist Shad Sitz, both of whom are pilots who have previously used the Chicken Strip and advocate its continued operation.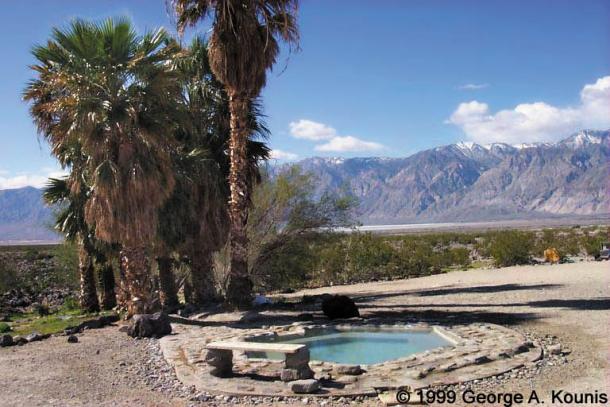 The Chicken Strip is within walking distance of several natural hot springs with impressive views.
The NPS has few resources to reopen the Chicken Strip due to limited staff and the remote location (Death Valley National Park does not operate any aircraft, so a trip to the Chicken Strip is currently 1 1/2-day trek requiring an overnight stay in the desert). Fortunately, maintenance of the strip falls under a landmark memorandum of understanding between the National Park Service and the Recreational Aviation Foundation.
Superintendent Craighead has one legal concern regarding NPS exposure to liability of volunteer workers. As soon as NPS legal personnel address that concern, the RAF can schedule a work party to reopen the airstrip. Check back on the RAF website for further updates, http://theraf.org.
Submitted on August 11, 2011.