RAF WEEKEND AT EVERGLADES AIRPARK
Perched on the very southwestern tip of Florida's peninsula is one of the state's first airports, Everglades Airpark, (X01). Located in the midst of recreational and historical opportunities it was the site of our second RAF Weekend. Camping is welcomed at X01, and RAF's Florida group took it one step further and hosted a full weekend of socializing, seminars and enjoying the ambiance of Everglades City, a very old, very unique small town. This event varied quite a bit from our first RAF Weekend at Cedar Knoll Ranch in Central Florida where the main recreational event was building a massively tall, 'fully equipped' baked potato dinner.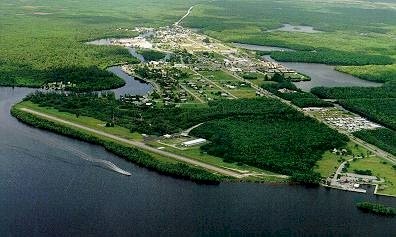 RAF members flew in from Atlanta and even Pennsylvania, although most were from Florida. The Everglades Foundation presented a program on the very troubled past and hopeful future health of the Everglades. Local artist Muffy Clark Gill presented southwest Florida aviation history both verbally and with her batik work. The local FAA Safety Team (FAAST) instructors covered rugged/short field landings and takeoffs; and survival techniques and lightweight survival gear. The vast Everglades may be greener than the southwest desert, but while flying over them, thoughts of the consequences of a forced landing are similar.
This was the second of Florida's three planned RAF Weekends, with the third one scheduled for March 23-24 at Blackwater Airfield in Florida's Blackwater Forest, just about as far away from the Everglades as you can fly and still be in the Sunshine State.
Florida may be big but the RAF's aspirations match it.
Submitted on March 9, 2013.