RAF'S AMRAT CHUGANI STEPS UP TO FLORIDA LIAISON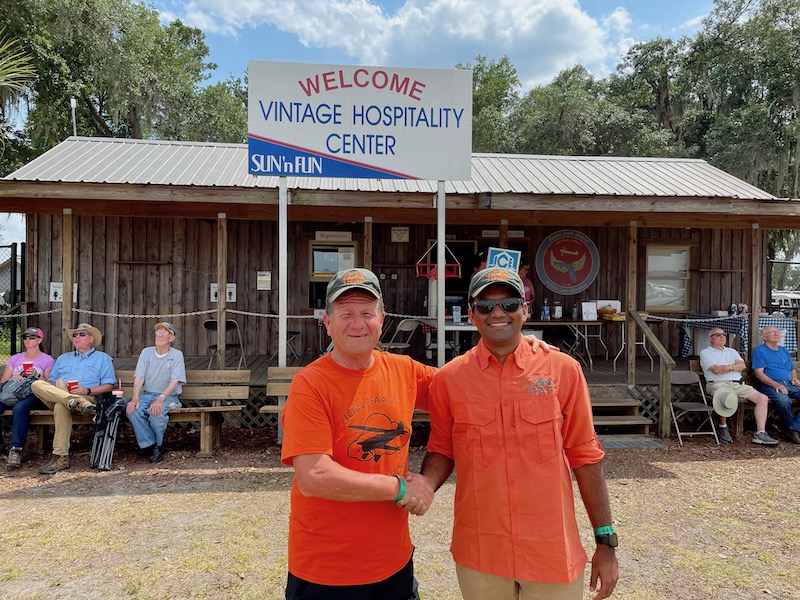 After serving as an Ambassador since 2018, Amrat Chugani (above, right) is now volunteering as a Florida Liaison alongside Bobby Capozzi (above, left). As a child growing up in Singapore, Amrat Chugani gazed skyward in awe, wondering how mammoth aircraft cruised through the open skies with such ease. He was amazed that only two highly skilled, trained pilots could command jetliners, responsible for safely transporting hundreds of lives. "Coming from a country such as Singapore, I never dreamt of becoming a part of aviation. The opportunity to become a pilot was reserved for a select few," Amrat says 
Amrat's interest in aviation began as a child. He would travel frequently between the US and Singapore. Prior to the terrorist attacks in New York, security was more relaxed and Amrat was allowed into the cockpit. The pilots gave him "junior wings" and said that he had now become one of them. "It made me feel very honored. Even if it was for a brief moment, it was unforgettable," he says.
After high school, Amrat served two years in the Singapore Armed Forces in the 8th Singapore Infantry Regiment as a full-time serviceman. It was in the military that he decided to pursue a career in aviation. It had never occurred to him that he could own his own plane and enjoy backcountry flying. "Owning a plane seemed like a very far-fetched dream," he said.
After his military service, Amrat enrolled in Embry-Riddle Aeronautical University in Daytona Beach, FL. While there, he attended the Tampa AOPA Fly-in and met former RAF Director Tim Clifford who was standing under the wing of a plane next to a bright orange tent. He warmly invited Amrat to the seminar on backcountry aviation. When Amrat appeared, Tim famously remarked, "I had a feeling you'd come!" And Amrat became an RAF member.
"Through the RAF I have had many adventures. I have enjoyed meeting people who never thought backcountry aviation would be for them. I have especially enjoyed nights around the campfire, surrounded by tents and hammocks, enjoying the company of my peers at places like Creighton Island, Arcadia, Sun n' Fun, and others."
"Aviation is a lot more than just flying from point A to point B," he says. "As the new Florida Liaison, I'm going to be part of the concerted effort and dedication on the ground to preserve, improve and create opportunities for these experiences for all to enjoy. Amrat joins Bobby Capozzi as RAF Florida Liaison. He can be reached at achugani@theraf.org.
Submitted April 30, 2021.