RILEY RECRUITED TO SERVE ON RAF BOARD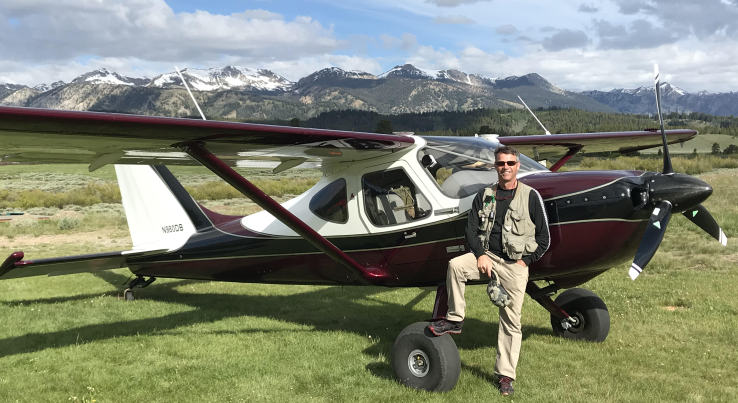 Tim Riley of Driggs, Idaho has agreed to step up from his RAF Idaho Liaison position to a seat on the RAF Board of Directors. Riley has devoted many volunteer hours organizing and assisting on airstrip improvements in Idaho and Montana. He has also worked closely with the US Forest Service to foster cooperation and support RAF goals on public lands across the country.
"We are excited to welcome Tim to the leadership team of the RAF," said RAF President Bill McGlynn. "He has already shown his tremendous enthusiasm for our mission with his initiatives in Idaho and we look forward to his creativity on a national scale. Beside the benefits of his work ethic, Tim is a great leader and collaborator and not only talks, but also walks the culture of the RAF."
Riley is a native of upstate New York. His introduction to aviation was as a youngster in a Beaver on floats on the lakes in the Adirondacks. He has lived and traveled around the world during a career in the data networking and security industry.
Starting with hang gliders and paragliders, Tim has flown foot-launched gliders thousands of miles across California, Nevada, and the Western US. "You never knew where the day was going to end, but it was guaranteed to be an adventure. You might even share a few thermals with a condor or hawk along the way," he says.
As his kids grew, Tim switched to airplanes to share the joy of flying with his family, accumulating over 30 years of recreational flying experience. "From Baja to the Florida Everglades, from Mount Rushmore to Niagara Falls, recreational aviation is an incredible way to see the country," he says. Tim's additional aviation pursuits included owning a flight school and maintenance shop, providing flight instruction, and selling new and used aircraft. Tim has served on the Driggs Airport Board and currently volunteers to fly animal rescue flights.
Tim and his wife Janette – also a rated pilot – are based in Driggs, Idaho. The couple enjoys hiking, kayaking, skiing, and especially backcountry flying and camping.
"By far, over the years, the best thing about flying has been the incredible number of kind and generous people we've met," Tim says, adding, "the RAF is the epitome of this flying and family spirit. It is a privilege to work with such a group on preserving access for everyone to enjoy."
Submitted on May 27, 2021.