A blue sky, perfect temperature, fun group of people, and one of the prettiest places in the West…That was Russian Flat last weekend.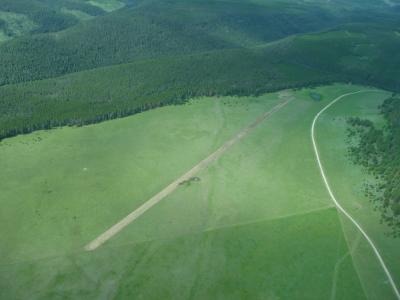 RAF volunteers from Montana, New Mexico, Idaho, and Washington spent much of the day clearing brush and rocks from the campground area, felling some dead trees, and bucking them up into firewood. As the shadows lengthened, we all enjoyed a taste of the Recreation that is the reason the airstrip exists. With tents pitched and planes tied down, burgers and brats cooked over the fire, and stories got taller. Mother Nature kicked up her heels just a little, with a rumble of thunder, a few flashes of lightning, and a splash of rain and small hail, but no harm was done, and the clouds were gone as quickly as they had formed. Soon dark moved in, stars came out, and Larry Larson treated us to some campfire music, Montana-style.
Already looking forward to next time…Mike Todd, Yelm, WA
Check out Mike's blog at http://www.wingsanddreams.com/.
Submitted on August 12, 2011.