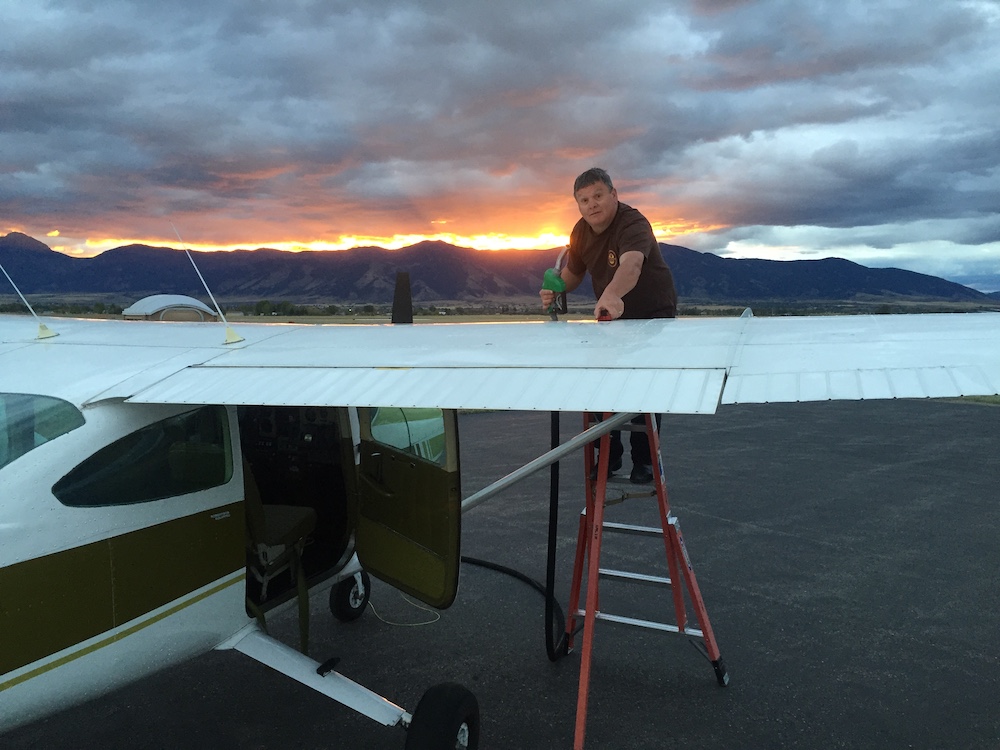 Scott Bell of the Bozeman, Montana area got involved with the RAF early on, operating a Bobcat, excavating and placing culverts for the construction of the pilot shelter at Bozeman Yellowstone International Airport (KBZN). The shelter was completed in the summer of 2007 and has been a popular place for airplane camping and aviation clubs to gather. The Gallatin Airport Authority (of which RAF Chairman John McKenna served for 20 years) cooperated with the RAF on construction of the shelter and while on the project, Scott became interested in the RAF and its mission. "The RAF is an amazing group of people and the accomplishments keep going on and on," he said.
Scott is Montana born and raised, and finished his undergraduate and Masters degrees in Engineering at Montana State University close to home. He became Morrison-Maierle's Lead Engineer at the Bozeman airport in 1984.
The Bozeman-Belgrade area has seen "unbelievable growth," he says, and he has worked to accommodate the huge impact in the region with appropriate infrastructure. Scott oversaw projects at BZN since 1984 including the new Interstate 90 Airway Boulevard project, and the adjacent interchange for access to the busy terminal, GA ramps and rental car facility. This airport has become Montana's busiest, and the Airport's official January 2020 report tallied 1,573,860 passengers during 2019, a 17.3% increase over 2018, "the tenth consecutive year of record-breaking passenger traffic," the report stated.
Admittedly not his biggest project, but Scott added, "I'm also proud that we have a turf runway at the airport." He has also participate in many GA hangar projects at the airport to handle that demand. Scott gained his pilot license in 1986 and now flies a 1977 Cessna 182Q with the Robertson STOL modification. His eight grandchildren "are within minutes from his home" and he enjoys sharing his love of aviation with them on VFR days. He also helps the RAF by contributing his cooking skills, specializing in large groups, which has been of valuable help at RAF gatherings. You might say engineering is his vocation; cooking is his avocation, and flying is his vacation!