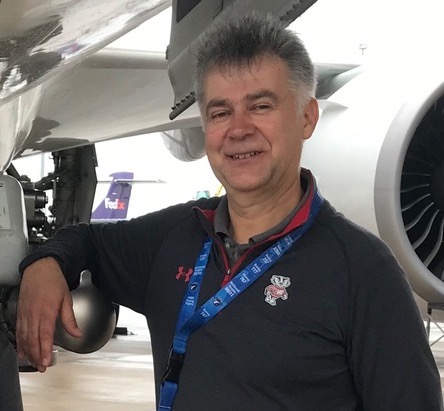 For a pilot who has flown all over the world, first as a Navy pilot in Sikorsky H3 helicopters, then flying logistic support in the Beechcraft C12, and the DC9, civilian regional in the Jetstream 4100, and freight for Atlas Air in the B747, Tim Kaseno's roots run deep in Cornucopia, Wisconsin, a place that draws him back, now as airport manager.
Having begun his aviation career in the US Navy, Tim is not really your typical "private" pilot, and didn't learn of the RAF at a backcountry airfield in his own airplane. But he's definitely a supporter and partner. RAF Director Jeff Russell of Wisconsin flew up to Cornucopia, (23W), loved it, recognized its potential and called Tim. "We discovered we had mutual friends, and we connected over some ideas Jeff had. An hour and a half later, we'd made some plans to improve the airport." Years before, the town had few resources to keep the airport up to FAA standards, and had given maintenance over to the Cornucopia Club, volunteers who continued to mow the field to keep it open. "In the process, we recognized the potential of the grass airport. The RAF provided education, support, labor, monetary help and encouragement," Tim says.
"That type of flying has grown," he adds.
To say Tim knows the place well is an understatement. He's the third generation of his family to call it home. "My mother began working at the General Store at age eighteen, and retired at age eighty-eight," Tim says. After serving in North Africa and Europe in World War II, his father bought a farm and settled his family there.
Tim and his family now live in Minneapolis. He flies the Airbus 300 for FedEx, and his wife is a career flight attendant – now for Delta, and they appreciate being close to MSP for work. "It's a three and a half hour drive to Cornucopia," he says, but he's dedicated to keeping the airfield appealing for recreational pilots. Thanks to an RAF grant and lots of local and RAF volunteer help, there is a pilot shelter, and bicycles for the short ride into town. "Residents and business people really appreciate the airport now, and the extra activity it brings to town. It's another pride of the community," he adds.
Does he have a favorite aircraft? "It's a tie between them all, especially the 747-400," Tim says. Does he have more aviation goals? He wants to get checked out in a four-seater. "My daughter is a student at Madison Area Technical College, and has flown all over the world, but we want to go flying together around here," he says.
Tim enjoys serving as Cornucopia Airport Manager, and if he ever retires, he will be leaving the airport better than he found it – the RAF Way.
Submitted on February 13, 2023.