VOLUNTEERS COMPLETE MCKENZIE BRIDGE ANNUAL MAINTENANCE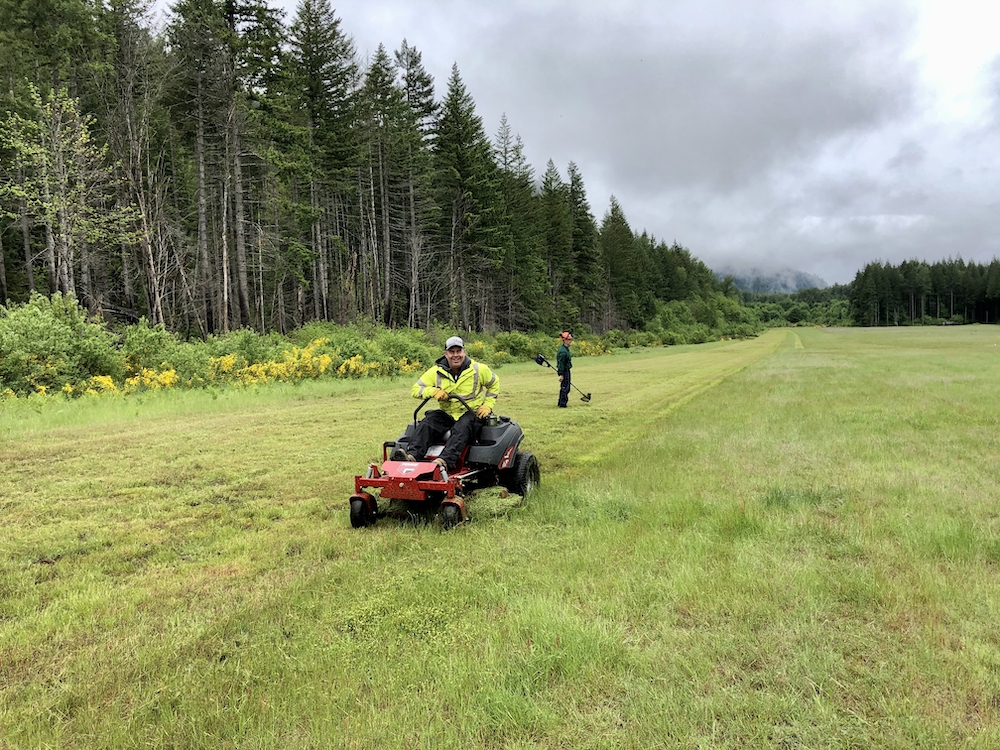 RAF Oregon Liaison Richard Mayes reports another successful work party at McKenzie Bridge Airport (00S), in part funded with an RAF grant. "On June 4, six dedicated RAF supporters braved cool and very wet conditions to complete the spring maintenance activities," he said.
McKenzie Bridge is located within the Willamette National Forest in Central Oregon's Cascade Range. "It's popular with recreational aviators for its fishing access to the McKenzie River, as well as hiking and mountain bike access to the well-known McKenzie River Trail," he said, pointing out that trees 140 feet tall surround the 2,600-ft long grass runway, creating a challenging backcountry environment.
For the past several years, RAF volunteers have supported the Oregon Department of Aviation by assisting with maintenance and improvements. Mayes has been successful using RAF grants to help with the costs.
This year, RAF supporter Paul MacClanahan provided the equipment and fuel to mow the airfield and parking areas. Volunteers removed encroaching brush, cleaned up the camping and picnic areas, and repaired damaged signs and fences.
Mayes noted that with the continued efforts of RAF volunteers, several backcountry airfields in Oregon including McKenzie Bridge, have been significantly improved over the past several years. "I want to express my appreciation to these many supporters for their continued dedication to the RAF mission," he added.
Useful information and a Safety Briefing are available at Airfield Guide, and information about its nearby outdoor attractions can be found in this RAF feature.
Submitted on June 14, 2022