WORK PARTY IN ALASKA'S WRANGELL-ST. ELIAS NATIONAL PARK
RAF Alaska Liaison Al Clayton organized a June 3 work party to trim and remove trees along 1,000-ft Jake's Bar, which lies within Alaska's Wrangell-St. Elias National Park. The group gathered Friday at Clayton's rustic cabin at Fireweed airstrip, near the old mining town of McCarthy. The pilots enjoyed an incredibly scenic flight, while Al's wife Beth and daughter Taral made the 6-hour drive from Anchorage, bringing tools, food, beverages and propane.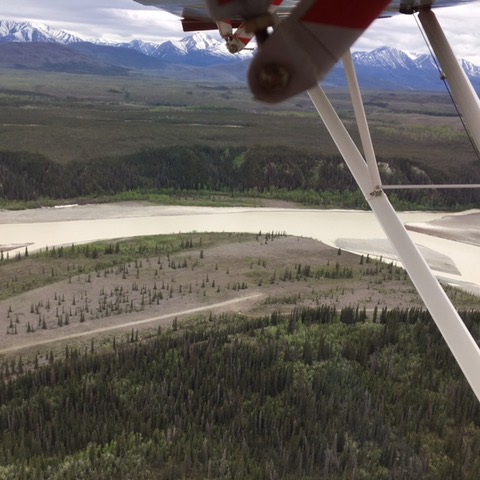 After Saturday's hearty potluck breakfast, nine volunteers in five planes made the short flight into the Park, landing at Jake's Bar along the Chitina River, a tributary of the Copper, famous for salmon. Al had worked with Park officials to obtain the permit and guidelines for the work, and packed in chainsaws, loppers, hearing protection, a weed whacker and sandwiches. The strip was originally a staging place for mining activity, and is now ideal for recreational use. There is an old cabin, sauna and historic cache at its north end that is maintained by the Park Service and available for public use. A short trail leads to a good put-in place for rafting the Chitina. The group tracked down an old road grader abandoned in the woods.
Overcast but dry weather held all day Saturday, but typical Alaska spring rains began Saturday night, and low ceilings delayed departures on Sunday. Spirits were high in spite of wet tents and clothing.
Al thanks Bernie Willis and Ed White, volunteers from EAA Chapter 42; Matt Freeman, retired FAA; and Bob Waldron, Ray Huot, Jim Schaff, and Montana's Carmine Mowbray, all from the RAF. Ray's guest, Ralph Peters from Georgia did a great job with the weed whacker.
Submitted on June 12, 2017.