NOVEMBER FEATURED AIRSTRIP: BLACKWATER, FLORIDA
Each month we highlight an airstrip with hopes that you will get out and enjoy these special places. This month, we're featuring Blackwater, Florida.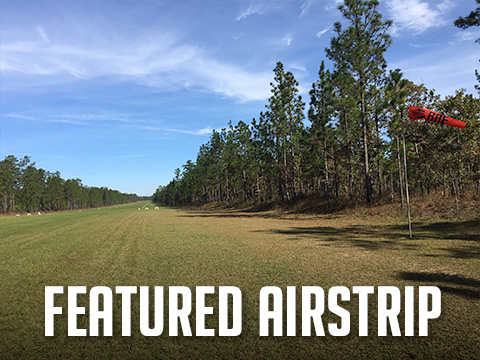 It's flying season in Florida, and the RAF is featuring Blackwater, 8FD3 this month, the beautiful turf airfield in the mixed pine forest near Munson, FL. 

This airfield has been the focus of many volunteer work parties over the years, thanks to Florida Sport Aviation Antique and Classic Association (FSAACA) and the RAF. RAF Florida Liaison Bobby Capozzi gathers his team of "Gettin' it Done" RAF volunteers to assist, and helps refresh the field each season. The group does indeed get it done, and has a lot of fun, good food, and often musicians jam around the evening fire. The airfield lies on public Forest Land, and Capozzi says, "Blackwater is the result of a lot of hard work and great communications between the RAF and the Florida State Forestry." He adds, "Being a good neighbor to the goes a long way."

The spirit of volunteerism is powerful at Blackwater. During the 2017 fly-in, the late Drew Hatch USAF (Ret) and RAF supporter, was honored for his efforts securing Blackwater for the GA community. The U.S. Air Force Honor Guard attended and presented the flag to Drew's family, and GA pilots executed the missing man formation over the field.

Today, visitors can enjoy barbecue grills, picnic tables, and the campground nearest the airstrip has a bathroom with shower house. A scenic trail takes you to a 6.5 acre spring-fed swimming lake. To facilitate "leave no trace" use, a dumpster is located between campgrounds. 

Capozzi says, "Blackwater is ready for the season, so be sure to put this on your calendar of places to visit." He invites willing volunteers to the upcoming work party and 20-year anniversary observation November 10-12. See details here.

Because of its proximity to the two campgrounds, please respect other users who also seek quiet backcountry experience. A safety briefing and prior contact is required. For details on useable runway length, see the Airfield Guide.
By Carmine Mowbray
Submitted Octover 31, 2023